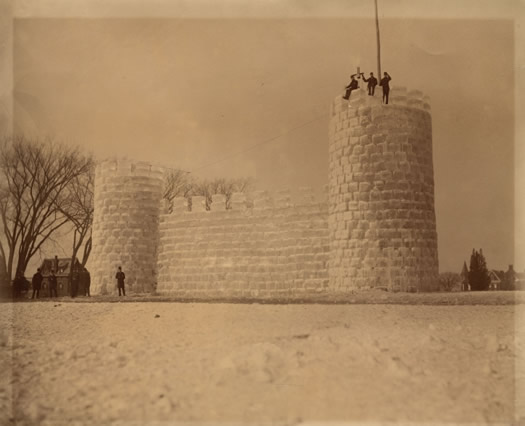 Check out this ice castle built in Albany's Washington Park in 1888. It's via the collection of the Albany Institute of History and Art, which posted the photo on its FB page Thursday.
The "ice palace of considerable size," as it was described at the time, was constructed in mid January of 1888 at the corner of Madison and Lake avenues east of what was then (and still is) the tennis grounds for a winter carnival.
From an Albany Law Journal account of the carnival:
Every thing was sliding down hill except the capitol and part of that seemed disposed to join the exercise -- sealing the fate of the assemblymen it were. (If that decaying ceiling would only their attention to the future state as much as life insurance it would be a great gain.) Albany was full of visitors for two days and this must have profited our citizens financially unless visitors like John Gilpin's wife "although pleasure bent," "had a frugal mind." The glories of our new capitol were temporarily eclipsed by ice palace in the park which had several advantages over its legislative competitor -- it had no smell of gas, was much better lighted, did not require to have the snow shovelled off the roof, and did not tumble down so soon as was expected. Besides, it cost nothing to take care of it would it not have been a happy expedient to the Assembly into it while their hall is repairing. It would have hastened legislation, at least, or curtailed it, which is better.
The carnival featured bobsled races, curling matches, and skating on the park's lake. And it closed with a bang. From a NYT account:
The carnival was brought to a close by a pyrotechnic bombardment of Fort Orange (of ice) in Washington Park. Gov. Hill witnessed the exhibition from Mayor Thacher's sleigh. Nearly all the legislators were seen in the crowd, which numbered several thousand. The display of fireworks was grand and the bombardment pretty. The attack was led by posts of Sons of Veterans, snowshow, and bobbing clubs. This ended Albany's first Winter carnival.
A few year's back Albany Archives turned up an illustration of the fireworks display.
Earlier on AOA: When The Albany Bob was a tremendous craze
Hi there. Comments have been closed for this item. Still have something to say? Contact us.