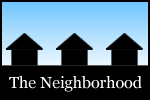 Among the topics in this most recent spin around the Capital Region's online neighborhood: it'll be OK, Capital District police, parking in downtown Troy, yoga, roller skating flashbacks, the State Library, a cozy destination, Wine & Dine for the Arts, restaurant bargains, a soup flight, epic snow, film, and the confidential destination.

Stephanie with a message for new parents: "It'll be okay."
Carl recalled that time there was a regional police force in the Capital District.
Jona's thinking about how to push for a residential parking permit system in downtown Troy.
Silvia tried out a hot yoga class at the mall.
Jon's first trip to Guptil's prompted flashbacks.
Randal explored the New York State Library.
Jackie crossed a frozen Moreau Lake to reach a cozy destination.
Two perspectives on Wine & Dine for Arts: from Deanna (over at Daniel's site) and Otis.
Steve asked people about their favorite restaurant bargains.
Julie got a soup flight at Blessings Tavern in Colonie.
The magic snow-deflecting power of Rob's new snowblower has him wishing for an epic snow.
In Soviet Russia black-and-white film takes photos of Chuck.
And Paula considered the confidential destination...
Hi there. Comments have been closed for this item. Still have something to say? Contact us.