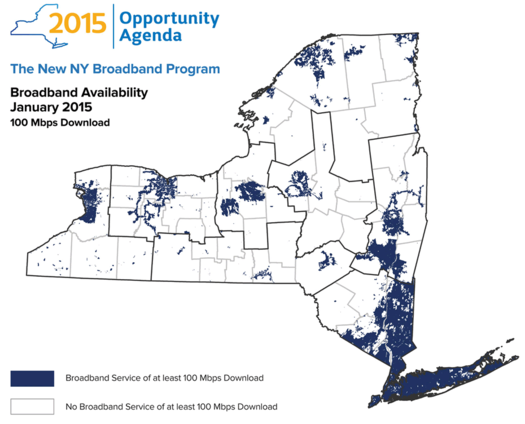 One million people in New York State currently can't get broadband internet access, and 7 million -- including roughly 70 percent of upstate -- can't get access that would be considered very-fast* high speed access.
So reports the Cuomo admin Friday as part of its pitch for a plan to put $500 million of the bank settlement money toward extending broadband internet access to every part of the state by 2019.
The plan aims to use the money as matching grants to private providers to expand access. And one of the conditions of the funding would be that (in most cases) the internet access would have to be at speeds of at least 100 mbps. (For comparison, the "standard" TWC internet connection includes speeds up to 15 mbps.)
From the press release blurbage for the current state of broad access in the state:
+ One million New Yorkers and 4,000 businesses cannot get access to broadband at the State's previously established minimum speed standards (6 Mbps download and 1.5 Mbps upload) - speeds that are already too slow. To understand just how slow six Mbps is: it takes approximately 1.22 hours to download a 6 gigabyte movie at that speed. The same movie would only take 49 seconds to download at 100 Mbps.
+ 5.4 million New Yorkers and 55,000 businesses cannot get access to broadband at 25 Mbps.
+ 7 million New Yorkers and 113,000 businesses cannot get access to broadband at 100 Mbps - the minimum speed a 2014 survey of economic developers said was needed to attract and grow businesses. This includes 70 percent of Upstate New Yorkers.
+ More than 2,000 of New York's public schools report speeds lower than 100 Mbps. And nearly 500 public schools have no broadband service at all.
Pushing to expand broadband internet access -- and at higher speeds -- is a good thing. It's modern infrastructure upon which so many aspects of daily life now depend. And there's a good argument to be made that not having this sort of access prevents a person from fully participating in modern social/political/cultural life.
But there were two things we thought were conspicuously absent in the Cuomo admin's announcement:
Cost: The program details include mention of trying to find the most cost-effective means of providing universal access, which is good. But we'd like to see more about how to provide high-speed access to people in low-income households, especially those with children.
Municipal broadband: The White House made some ripples this week by advocating for the creation of municipal broadband networks -- that is, internet access networks developed and owned by local municipalities. Advocates for these sorts of networks argue they can provide access to underserved communities, and provide much-need competition to other service providers. Cedar Falls, Iowa and Chattanooga, Tennessee have been held up as examples of successful municipal networks. [White House] [Vox]
And one more thing: 100 mbps is fast. But the really good stuff at this point is 1 gigabit service (10x as fast as 100 mbps, and twice as fast as even the highest tier of Verizon FiOS fiber service). Google has been offering this sort of service in its few Google Fiber markets, as have the Cedar Falls and Chattanooga municipal networks.
If you're curious about the speed on your current connection, the NYS Broadband Office (as well as many other sites) offers a speed test.
* Not a technical term, obviously. In this case, it's referring to access of 100 mbps.
Hi there. Comments have been closed for this item. Still have something to say? Contact us.