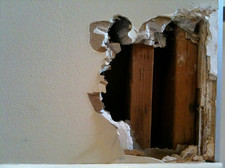 Matt emails:
Does anyone have suggestions for a contractor that can repair lathe and plaster walls? I have part of one wall that has sustained water damage from leaky chimney flashing and another wall where some of the final smooth coat has cracked apart. I've done some research and know that some contractors suggest tearing it out to the studs and replacing it with drywall (which would also give an opportunity to put in some insulation on the outer walls).
I like the plaster walls because they're thicker and more substantial than drywall, and provide good sound dampening between rooms. The idea of just ripping them out seems counterproductive (and quite frankly, a waste) to me. However, I realize repairing them is probably a lost skill and not many people do that anymore.
Any suggestions for contractors or input otherwise would be greatly appreciated.
This area has a lot of old houses, so we're guessing there are contractors who do this sort of work. But, as with most things that aren't common, it might end up costing a lot.
So, got advice or a suggestion for Matt? Please share!
Hi there. Comments have been closed for this item. Still have something to say? Contact us.