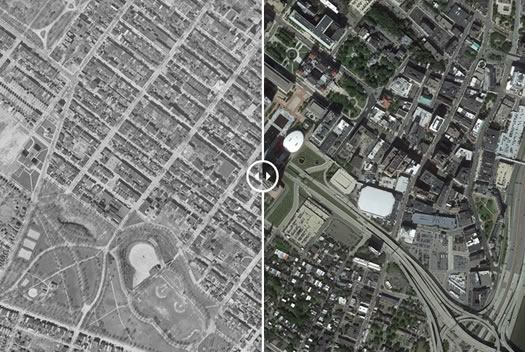 Check out these before-and-after aerial photos of Northeast cities posted by an academic institute at the University of Oklahoma. Albany is among the cities featured -- that's a screengrab above -- in the series of before/after sliding photos.
From the Institute for for Quality Communities post:
60 years has made a big difference in the urban form of American cities. The most rapid change occurred during the mid-century urban renewal period that cleared large tracts of urban land for new highways, parking, and public facilities or housing projects. Fine-grained networks of streets and buildings on small lots were replaced with superblocks and megastructures. While the period did make way for impressive new projects in many cities, many of the scars are still unhealed.
We put together these sliders to show how cities have changed over half a century.
One of the things that struck us as we moved the slider back and forth on the Albany photos was that, sure, the Empire State Plaza took up a lot of space -- but it's remarkable how the wide path was plowed for the South Mall Arterial connecting I-787 and the ESP.
The institute's posted other series of sliding photos for Oklahoma and Texas, the Midwest, and Southeast.
[via @albanymuskrat]
photo compilation: Institute for for Quality Communities at the University of Oklahoma
Hi there. Comments have been closed for this item. Still have something to say? Contact us.