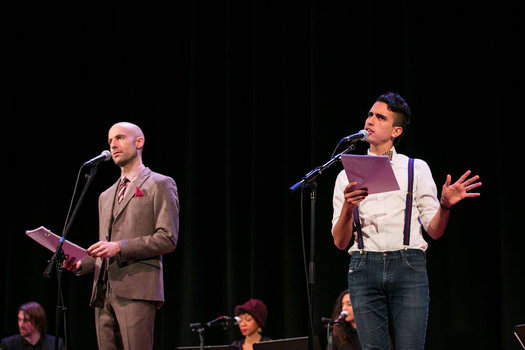 A touring live show of the popular podcast Welcome to Night Vale will be at The Egg May 18. Tickets are $30 and they're on sale now.
From the show's blurbage:
WELCOME TO NIGHT VALE is a twice-monthly podcast in the style of community updates for the small desert town of Night Vale, featuring local weather, news, announcements from the Sheriff's Secret Police, mysterious lights in the night sky, dark hooded figures with unknowable powers, and cultural events.
Turn on your radio and hide.
The show has been described as "Lovecraftian", "caught somewhere between Weird Twitter and Tales of the Unexplained", "like NPR meets The Mothman Prophecies," and channeling David Lynch and Orson Welles. As co-creator Jeffrey Cranor explained to All Things Considered:
I've always been fascinated by conspiracy theories. And also, to a lesser extent fascinated by the Southwest desert. Fascinating things probably happen there on a regular basis. So I came up with this idea of a town in that desert where all conspiracy theories were real, and we would just go from there with that understood."
The live show at The Egg is in the Hart Theater.
photo via Welcome to Night Vale FB
Hi there. Comments have been closed for this item. Still have something to say? Contact us.