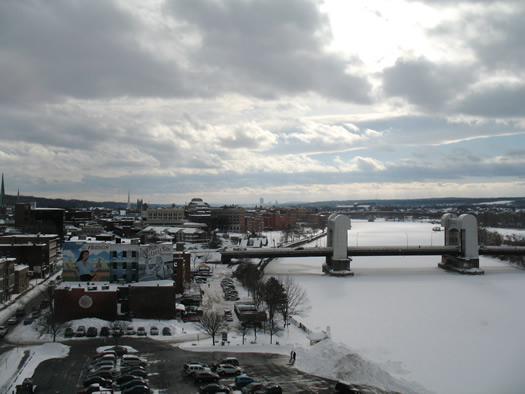 The "Upstate Place/Rust Belt City is the new Brooklyn"/"People are moving from New York to Upstate Place/Rust Belt City" has become its own distinct genre of article. And it's durable, persisting over many years (here's one from 2008 and one from this week).
Some of these articles aren't bad -- they capture some of the complications and nuances of these cities trying to grow again while attracting new people and attempting to provide opportunities for the people who've lived there for years.
Others are just irritating, in that all these diverse places end up being defined in reference to Brooklyn. The praise delivered often has a faintly condescending tone. And the problems inherent in these cities' growth is glossed over.
Of course, many of the articles fall somewhere in between.
Because we're here to help, we've put together an outline of "(Upstate Place/Rust Belt City) is the new Brooklyn" article cliches/themes/references. Think of it as a sort of check list...
❑ (This Place) is The New Brooklyn.
❑ It's so cheap compared to New York.
❑ And it's post-industrial. This was a factory!
❑ No, seriously, guys, like, it is so cheap. They're practically (or literally) giving away properties.
❑ Aren't you envious at how little these people are paying for this palatial apartment here?
❑ This undiscovered country (that's so cheap!) is attracting urban pioneers and homesteaders.
❑ Some of these people grew up here. They're re-pioneering.
❑ The Creative Class.
❑ Artists.
❑ Some of these people moved here from Brooklyn. By choice. It's true.
❑ Many of these people are Millenials. And Hipsters. They're Millenial Hipsters and Hipster Millenials.
❑ Thanks to these pioneers, you can now get that thing that you can't live without after living in New York. Twice-sprouted, hand-milled, gluten-free bread. Brussels sprouts served five ways. Pretentious ramen. $10 coffee.
❑ Vague allusion to problems and complications prompted by gentrification.
❑ Look, there's a spunky local brewery that makes reference to some aspect of this place's history.
❑ Farm to table.
❑ A curated selection of urban livestock.
❑ They even have an arts scene here. And it's so cheap. The people here don't appreciate how cheap it is.
❑ Guys, it's not just The New Brooklyn, it bears a real similarity to specific Brooklyn neighborhoods.
❑ Behold the status we have conferred on this place by paying attention to it.
❑ By the way, there were people living here prior to the all the urban homesteading and pioneering.
❑ Quote from the mayor.
❑ Quote from local media person, preferably someone who runs a blog.
❑ The people who already lived here love it so much. They have moxie. That's so cute.
❑ Glossing over the fundamental economic and social problems that contributed to the state of this place, like the evaporation of many solid middle class jobs.
❑ No mention that an entire local economy can't be built on expensive coffee shops.
❑ But prices are rising.
❑ So you probably should have written your farewell-to-New York thinkpiece a few years back. Because you've missed out on the truly, obscenely, unbelievably great real estate deals here.
Hi there. Comments have been closed for this item. Still have something to say? Contact us.