By Deanna Fox
The doldrums of winter have settled in. I've got cabin fever, and these long, freezing days are starting to wear on me.
Winter is great in that I can snuggle in front of the fire in fleece-lined leggings, ugly (but cozy) sweaters, and put whiskey in my tea with reckless abandon.
But the best way to beat winter is from the inside out. I've been wondering what other cooks in the area have been eating to get through the winter. So I asked! Here's what winter tastes like a handful of kitchens around the Capital Region.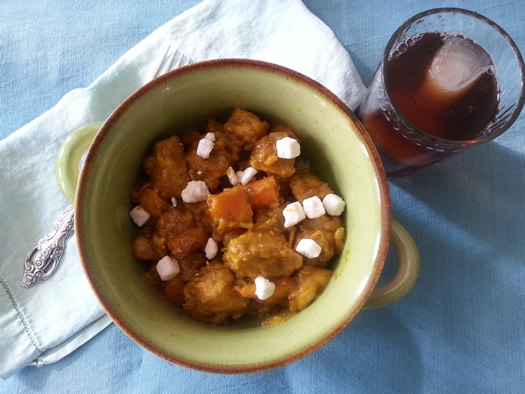 I'll start. I crave warmer temperatures, but the best I can do right now it try to turn the feeling of sunshine on bare skin into the flavors of other seasons and locales. For me, that has manifested at a mock-Moroccan stew. I use this recipe, but with tweaks (because I can't leave well enough alone). To the stew itself, I also add two cloves of minced garlic, 2 tablespoons of brown sugar, and a teaspoon each of ground turmeric, cumin, coriander, and red chile pepper. To the couscous I add golden raisins and silvered almonds. I finish the dish with a bit of crumbled feta. I'll be eating this all winter long.
Kim Hickok, Kimversations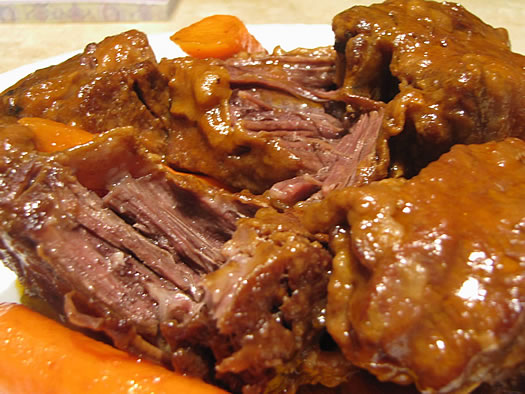 Courtesy of Kim Hickok
"For me, it's all about short ribs. Our family's go-to recipe is Short Ribs Mount Vernon. I like that I can cook these in the oven or slow cooker and if I want, I can even speed up the cooking process by using the pressure cooker."
Here's the recipe.
Albany Jane, AlbanyEats!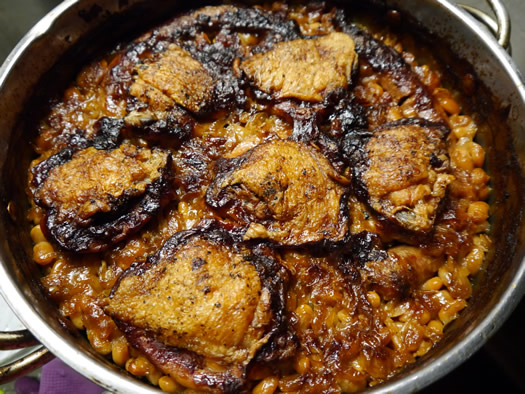 Courtesy of Albany Jane
"I've been digging cassoulet for these cold days (and nights). I'm normally not a big fan of bean dishes, but the beans in cassoulet become meltingly tender and blend right into the dish."
Here's the recipe.
The Fuj, Fuj On Tap

"Hot Toddy all day long. I keep it simple: Eagle Rare, juice from half a lemon, lemon zest, cinnamon stick, black tea, North Country Farms honey."
Here are some hot toddy recipes.

Lauren Keating, Healthy-Delicious.com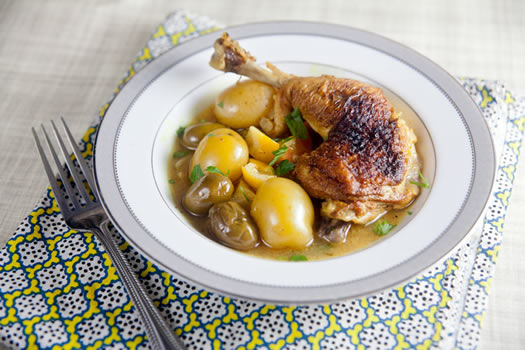 Courtesy of Lauren Keating
"Simple dishes that cook in the oven means less time in the kitchen and more time in front of the fireplace, so they're perfect for this time of year. I especially love this lemon chicken with olives and potatoes. It's rich and warm, and the bright lemon flavor reminds me of spring weather."
Here's the recipe.
Mary, AOA editor
"Sometime's I'm a little sad that I don't really cook. Not, mind you, sad enough to really learn. Just a little sad. My husband and some of my friends really have fun being creative in the kitchen. I always seem to have something else I'm writing or creating in the back of my mind that I'd rather be doing.
"My mother was a wonderful cook, but she didn't write anything down. Her cooking was unpretentious, passed down from her Italian grandmother and meant to feed an army of kids, parents, aunts, uncles, grandparents, and great-grandparents at dining room tables that always had room for more people.
"I miss my mother every day, but I miss her cooking most in the winter. Roast beef and Yorkshire Pudding, stews, sauce (gravy), braciole, lasagne. You'd walk in the house and know by the smell of the kitchen that you were loved. One cold February day when I was really missing my mom, a friend suggested I cook one of her meals. Being less than talented in the kitchen I tried to think of something simple that I could recreate. I put on one of her old sweatshirts and put together her chicken soup. It was never made as a meal in itself -- it always went with cheeses or sandwiches, and she'd dish out seconds from a pot on the stove, not a fancy bowl. Now it's my favorite thing to make when it's cold. Or when I miss my mom."
Mama Darcy's chicken soup
Ingredients: 1 roasting chicken, bay leaf, carrots, celery, orzo or elbow macaroni, Parmesan cheese.
Instructions: Boil a roasting chicken in a pot of water with a bay leaf. Chop celery and carrots. Let the chicken cool, bone it, chop it and return it to the pot with the vegetables. Simmer until vegetables are soft. Serve it over pasta and add parmesan cheese to taste.
That's it. Told you it was unpretentious.
Greg, AOA editor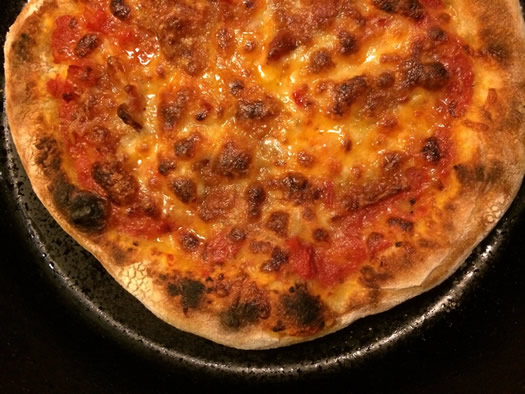 "I've been making a bunch of pizza the last few weeks. This has been good because: 1) It involves cranking the oven as hot as it will go, making the kitchen nice and toasty, and 2) We've had a lot of pizza to eat. I hadn't really been happy with the pizza I had been making at home until trying this crust recipe from Roberta's in Brooklyn that had been shared in NYT. It's worked great for me, with a crisp, airy end crust. I set the oven to 550, heat a cast iron skillet in the oven for a half-hour, cook the pizza in the skillet for 4 minutes, then hit it with the broiler for 2 more. Done."
"And, you know, once you have the oven warmed up, it'd be a shame to let that all heat go to waste. So, um, we've also been eating a lot of hand pies lately."
Here's the pizza dough recipe (the video there is worth watching).
Daniel Berman, FUSSYlittleBLOG
"I made a soup in the pressure cooker. I really just shot from the hip and used a wintry mix of storage vegetables (onions, potatoes, celery root, and carrots), dried white beans, homemade chicken stock, and a Parm-Reg rind. I tossed in a couple of bay leaves for good measure. There was nothing that could really go wrong with that. You know, besides being beige.
"However, I also fried up some matchsticks of pancetta, because that goes amazingly with beans. And then I drizzled some golden olive oil onto the top of each bowl. Some fresh cracked black pepper gives it a kick. I've been known to grate a bit more Parm-Reg over the top, too.
"All of the sudden, that beige soup is starting to be full of color. But everything on that plate is edible. Everything is working hard to make the food a feast for the senses.
"It's ready in a little over an hour, and it makes a phenomenal amount of food. Fortunately, it freezes well, which is why we've been eating this warming seasonal soup for weeks.""
Here's a recipe for winter soup with beans.
____
Deanna Fox writes about many things, mostly about food. More can be found on her website, Twitter, or Instagram.
Hi there. Comments have been closed for this item. Still have something to say? Contact us.