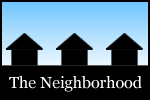 Among the topics in this most recent spin around the Capital Region's online neighborhood: criticism, Chowderfest, beer and food, influences and inspirations, a deep-fried burger, tea and chocolate, pickled eggs, the odd duck of grief, sharing experiences, honest snowstorm forecasts, followed tracks, ironic placement, knitting, and red.

Daniel called for the Capital Region to "embrace a culture of criticism."
Ashley put together an extensive recap of the Saratoga Chowderfest.
Kim and The Fuj attended an artisanal beer dinner at City Beer Hall and shared a bunch of pics.
Dominic shared some of his influences and inspirations.
J+R braved the deep-fried burger at Swifty's.
Julie checked out Verdigris Tea and Chocolate Bar in Hudson.
Mr. Dave pickled some Stewart's eggs.
Amy described the odd duck of grief and its migrations.
Silvia shared some thoughts on sharing experiences with her sons.
Rob on honest snowstorm forecasts.
Jackie followed tracks through the snow.
Carl shared two old Albany ads with ironic placement.
The Bee Balm Gal on knitting in public.
And Chuck has gone red.