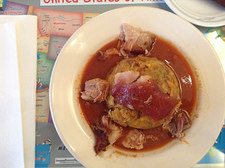 Cheryl emails:
We've recently had a discussion at work about how amazing Puerto Rican food is and how hard it is to find in the capital district. Could you ask your readers for suggestions? Personally, I've been looking for a place since I came home from a visit to the island back in 2003 with real tostones. For now we make our own, but I'd LOVE to find a place to go for dinner or even get good take out.
Obviously, if there's a restaurant primarily focused on Puerto Rican food, please mention it. But we're betting there are at least a handful of restaurants that offer some Puerto Rican dishes, like the mofongo at Casa Dominicana.
Got a suggestion for Cheryl? Please share!
Hi there. Comments have been closed for this item. Still have something to say? Contact us.