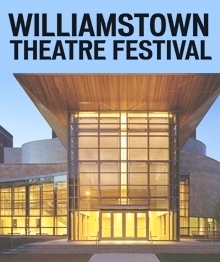 An earlier that summer is out there: The schedule for this year's Williamstown Theatre Festival is out today. As usual, it includes notable shows and actors you'll recognize, such as Kyra Sedgwick, Audra McDonald, and Cynthia Nixon.
The schedule is post jump.
Ticket bundles are currently on sale, starting at $165 for three shows, through March 6. Many of these shows end up selling out, so if you think you'd like to go this summer, buying early can be a good idea. (And you can a discount by buying one of the bundles.)
Single ticket sales start in April.
All blurbage from WTF. There will be additional casting announcements, and along with cabaret shows and other special events, as summer approaches.
Main stage
Off the Main Road | June 30 - July 19
By William Inge; Directed by Evan Cabnet
With Kyra Sedgwick

Golden Globe and Emmy Award-winner Kyra Sedgwick makes her WTF debut in the world premiere of a play by Pulitzer Prize-winner William Inge. As the second wave of feminism crests in America, the elegant but emotionally-fragile Faye Garrit (Sedgwick) seeks refuge from her husband, a former professional baseball player, by checking into a run-down resort on the outskirts of St. Louis, with her 17-year-old daughter. The future for mother and daughter may look hazy, but personal, political, and sexual awakenings allow them to move forward with new and heartbreaking clarity. Directed by former WTF Foeller and Sagal Fellow Evan Cabnet, this gripping and powerful drama deepens Inge's legacy of penning rich, emotionally hard-hitting stories populated by complicated and truthful, human characters.

Off the Main Road was, until recently, a lost work among Inge's canon - found and reintroduced by the Inge Estate in 2008.

Paradise Blue | July 22 - August 2
(2012 L. Arnold Weissberger New Play Award Winner)
By Dominique Morisseau; Directed by Ruben Santiago-Hudson

Tony and Obie Award-winner Ruben Santiago-Hudson directs the world premiere of a bracing and charged drama from Dominique Morisseau. Blue, a gifted trumpeter, contemplates selling his once-vibrant jazz club in Detroit's Blackbottom neighborhood to shake free the demons of his past and better his life. But where does that leave his devoted Pumpkin, who has dreams of her own? And, what does it mean for the club's resident bebop band? When a mysterious woman with a walk that drives men mad comes to town with her own plans, everyone's world is turned upside down. This dynamic and musically-infused drama shines light on the challenges of building a better future on the foundation of what our predecessors have left us.

A Moon for the Misbegotten| August 5 - August 23
By Eugene O'Neill; Directed by Gordon Edelstein
With Audra McDonald & Will Swenson

Six-time Tony Award-winner Audra McDonald and Tony Award-nominee Will Swenson take the stage in Nobel laureate Eugene O'Neill's final masterpiece. When Phil Hogan, a salty tenant farmer, fears he will lose his property, his daughter Josie (McDonald), lures their dissolute landlord, Jamie Tyrone (Swenson), into bed one summer night. Under the glow of the moon, truth comes into focus for these two souls, but what awaits them when dawn breaks? Helmed by Gordon Edelstein and featuring scenic design by the world-renowned Ming Cho Lee, this raw and invigorating new look at O'Neill's poetic and bitterly romantic A Moon for the Misbegotten assures us of the heart's capacity for infinite love and forgiveness.


Nikos Stage
Legacy | July 1 - July 12
By Daniel Goldfarb; Directed by Oliver Butler
With Eric Bogosian, Halley Feiffer, Jessica Hecht, & Greg Keller

Tony Award-nominee Jessica Hecht and Drama Desk Award-winner Eric Bogosian couple up for the world premiere of Daniel Goldfarb's funny and turbulent Legacy. When renowned novelist Neil Abrams (Bogosian) is panned by The New York Times, he reopens the conversation with his wife Suzanne (Hecht) about starting a family. As Neil copes with feeling increasingly antiquated and culturally irrelevant, and Suzanne begins a relationship with one of Neil's brilliant grad students (Feiffer), the equilibrium of their marriage is threatened. Directed by Obie Award-winner Oliver Butler, this thoughtful drama exposes the cost of trying to will our own legacy.

Kinship | July 15 - July 25
By Carey Perloff; Directed by Jo Bonney
With Cynthia Nixon

Emmy, Grammy, and Tony Award-winner Cynthia Nixon makes her Festival debut in Carey Perloff's gripping and sexy new drama. The tightly wound lives of a fiery newspaper editor (Nixon), an upstart journalist, and an overly-protective mother unravel when a passionate entanglement turns into an intense power struggle. Helmed by Obie Award-winning director Jo Bonney, Kinship explores the deep, often funny, and always intense pursuit of total happiness.

Unknown Solider| July 30 - August 9
Book & Lyrics by Daniel Goldstein; Music & Lyrics by Michael Friedman
Directed by Trip Cullman

In this haunting new musical created by writer Daniel Goldstein, Obie Award-winning composer Michael Friedman, and director Trip Cullman, Ellen Rabinowitz sets out to understand her past after she discovers an enigmatic photograph while cleaning out her deceased grandmother's home. As she chases the truth about the soldier featured in the photo, Ellen is drawn into a tangle of historical facts and mysteries that lead her to surprising love stories and unexpected truths. Bringing together three WTF alumni, Unknown Soldier delves into memory and family mythology, asking how - or even whether - the past shows us who we are.

Chewing Gum Dreams & An Intervention | August 12 - 23
Olivier Award-winning playwright Mike Bartlett's An Intervention will run simultaneously with fast-rising writer/performer Michaela Coel's Chewing Gum Dreams. Lila Neugebauer, former WTF Foeller Fellow, directs.

Chewing Gum Dreams
Written and Performed by Michaela Coel
Fourteen-year-old Tracey Gordon is rude, crude, and riotous. Who can blame her? Every which way she turns, she's constantly failed by those who should be looking out for her. But beneath her tough exterior lies a very real fear that the future holds very little for her. Explosive, thoroughly honest, and devilishly funny, Michaela Coel's award-winning Chewing Gum Dreams recalls the last days of innocence before the onrush of adulthood for a girl from the rough part of a tough city.

An Intervention
By Mike Bartlett; Directed by Lila Neugebauer
With a rotating cast
A whole lot of booze, a new girlfriend, and government involvement in a foreign war are just some of the factors that threaten to drive a massive wedge between two people. Can they close the ever-widening gap in their relationship, or have they reached a breaking point? Featuring rotating pairs of world-class actors, each performance of An Intervention will reveal new meaning inside this theatrical, mischievous, and engrossing two-hander from Olivier Award-winning playwright Mike Bartlett that puts personal and political intervention under a magnifying glass.