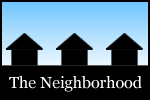 Among the topics in this most recent spin around the Capital Region's online neighborhood: Columbia County, towering pines, snowshoeing, gratitude, the full width, snow day frustration, tavern pizza, regrettable behavior, Valentine's Day, lamb, burgers, delivery pizza, nature photos, toile, and 10 years.

Julie shared bits from many Columbia County adventures: the Schor Preserve, the Hudson-Chatham Winery, lunch at Earth Foods, and hanging out with cats.
Jackie explored a forest of towering, old pine trees along the upper Hudson.
Jen went snowshoeing at Vischer Ferry Nature Preserve.
Amy on being grateful for things gained and experienced following loss.
Randal urged people to shovel the full width of their sidewalks.
Rochelle shared some frustration with snow days.
Daniel recapped the a recent tour of local tavern pizza. (And he also shared some photos -- (gasp) -- from the recent Thursday Night Throwdown at Stacks.)
Steve pointed out some regrettable behavior by a Troy restaurant owner.
Dominic shared some thoughts on Valentine's Day dining from a chef's perspective.
Ashley put together some Valentine's Day dining suggestions for Saratoga.
Lorre checked out the lamb dinner at Creo.
A burger from Smashburger prompted a rant from Otis.
Jona had takeout Chinese food -- and a beer -- at Rare Form.
A good reason to live near Jon.
Chuck shared some of his nature photos that will be on display at the Emma Treadwell Thacher Nature Center.
House gawking: Christine de-toile'd her house's bathroom.
A Silvia marked her son's first decade.