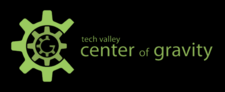 The Tech Valley Center of Gravity in Troy is holding a "Zero to Maker" event this Saturday, February 21 from 10 am-1:30 pm. Blurbage: "This event is for anyone interested in becoming a full member of the makerspace, our collaborative workshop for people who enjoy industrial arts, electronics, invention, entrepreneurship, fabrication and design."
The event will be signing up new members and getting them started on different sorts of equipment. Skills on display will include 3D printing, laser cutters, soldering irons and orientation to working in the makerspace.
We hear from TVCOG that a recent informal version of this event turned out to be very popular, so they're asking people to RSVP.
AOA is a media sponsor of TVCOG.