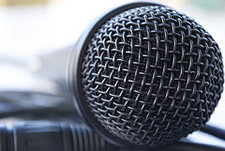 Nate emails:
I was wondering if you could help me out with some suggestions on where to rent speakers and a PA system for an upcoming wedding. I basically need a PA system that will hook up to an ipod to play music at a wedding reception. I was told that Drome Sound in Schenectady would be a good start, but I'd like some other options.
Any info would be greatly appreciated.
This is pretty straightforward, so if you have suggestion, please share. And if you can think of some sort of alternative that might help out Nate, we'd love to hear about that, too.
photo: Flickr derekGavey (CC BY 2.0)
Hi there. Comments have been closed for this item. Still have something to say? Contact us.