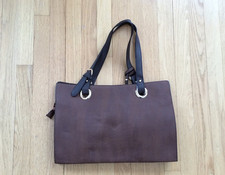 Donna emails:
I was gifted an expensive Coach bag; unfortunately, the clasp broke. I would like to get it repaired, but I have no clue how to go about finding a company that specializes in handbag repair. I wonder if anyone in the AOA community can help me out?
We get questions about repairing stuff like shoes or small household appliances and so often the answer ends up being: Yeah, unfortunately, people just don't repair stuff like that much anymore. But we're guessing there are still a few places that do this sort of work.
So, got a suggestion for Donna? Please share.
Hi there. Comments have been closed for this item. Still have something to say? Contact us.