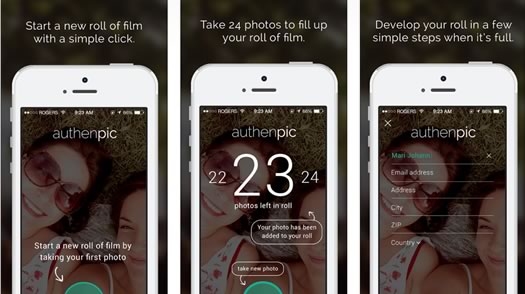 Nostalgia in app form: A team with local connections has created an app that recreates the experience of using a disposable camera. You can use Authenpic to take a "roll" of 24 photos that you can't see until they're delivered on actual prints after the roll's finished -- no reviewing, no editing, no filters.
The team behind the app includes Albany resident Mari Johannessen, her sister Linda Johannessen, and local designer/entrepreneur Jacques Bastien.
So, why build an app with these built-in limitations?
Linda Johannessen explains in a blog post:
Mari had moved to Albany to study, and I was visiting for the second time. (For those of you who don't know it: we're sisters.) Since we both love great food and drinks, Mari had booked a table at a really nice Mexican restaurant. We're from Norway, and you don't really get any real Mexican food there. Anyhow, we're having a great time - talking and laughing, when the food arrives. It looks beautiful, like a piece of art. And as so many of us, Mari takes up her phone to take a picture. Ok, fine, people should be able to take a picture. But then she took a new one, for the first wasn't good enough. Then she had to add a filter. And a caption. And a couple of hashtags. And then share it. And then the process started all over again, with pictures of each of us, that also needed retakes, filters, and so on.
Haven't we all been here? While this happened, the conversation stopped. Nobody is eating. A picture to capture a memory is great. But this felt to intrusive. I'm rolling my eyes, getting a bit hangry, and couldn't stop from making the comment on "how everything was better in the good old days. We just took up our camera, took a picture, and put it down again. Done in a second."
(Here's a Record interview with Mari Johannessen in which she touches on the same points.)
So the sisters came up with the idea behind Authenpic in 2014 and worked to develop it.
They got connected with Bastien via a design course he was teaching -- and Mari was taking -- at UAlbany. As he explained to AOA in an email about Authenpic:
We developed this app because we know the internet concept of the 'fear of missing out' (FOMO) is a real thing and while our generation is scrolling through our Instagram feeds while attending a live concert at the SPAC or something like that, we are actually missing out on the truly memorable moments right in front of our faces-- the moments that wind up lost in our camera rolls or a cloud service and then potentially being deleted in order to clear space when the new iOS update rolls out.

Our app is hoping to change all that!

Authenpic is free for iOS. The set of 24 4x6-inch prints are $9.50.
Hi there. Comments have been closed for this item. Still have something to say? Contact us.