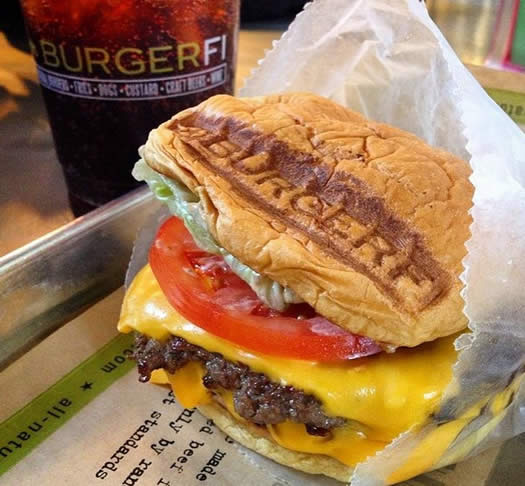 Upscale burger chains are (whatever the old thing was).
Announced Wednesday: The fast casual chain BurgerFi will be setting up in Latham this spring, with another location planned for Saratoga Springs.
The Capital Region locations are a joint venture between members of the Lia family (of auto group fame) and Angelo Mazzone (of his own local restaurant empire fame). Press release blurbage:
BurgerFi, short for "Burgerfication", is headquartered in North Palm Beach, FL, and currently has 58 locations throughout the country including company owned and franchised units.
BurgerFi has made its mark with never frozen, grass fed Angus beef that is free of growth hormones, chemicals and additives. Additionally, each BurgerFi store is built to reduce its carbon footprint on the environment. Tables are made from recycled Coke bottles, chairs consist of compressed wood and large fans utilize 66-percent less electricity. The chain has strict recycling programs in place for all its oil, cardboard, bottles and cans at each restaurant location. ...
In addition to an assortment of burgers, BurgerFi serves Kobe beef hot dogs, fresh cut fries with an array of toppings (salt and vinegar, parmesan cheese and herbs, BurgerFi chili, hot Cajun spices), onion rings, homemade frozen custards, craft beer and wine.
The Latham location is set for 860 New Loudon Road, and the Saratoga Springs location at 460 Broadway. Apparently other locations are also in the works.
Over at the Biz Review, Mike DeMasi talked with Angelo Mazzone about the restaurants.
So, what's the word on BurgerFi?
Here's a clip of a BurgerFi chain review by USA Today's travel food guy, Larry Olmsted, last month (it's very much worth reading the whole thing if you're curious):
[M]ost of the food at BurgerFi is very good, and if they cleaned up their menu text to be forthcoming, I could more heartily recommend it. The burgers are very tasty, all doubles using thin but real formed patties, juicy, fresh and meaty like Shake Shack's version, with very good buns. They are available in a pricier brisket version which says it uses 28-day dry-aged grass-fed brisket, but while it is a bit denser and meatier, it didn't taste appreciably better than the very good standard cheeseburger. The basic double comes with double American cheese, lettuce, tomato, BurgerFi sauce and optional bacon, while the brisket adds Swiss, bleu cheese and pickles. The toppings are all good and fresh. There are a couple of notably creative options, like a quinoa patty veggie burger and an all-day breakfast burger with fried egg, hash browns and maple syrup, something you won't find at other fast food spots. In another interesting twist, all burgers are available in lettuce wrap instead of buns.
... The onion rings are very good, crisp and hearty, but the fries are even better - fortunately they offer a combo so you don't have to choose. Fries are hand-cut and reminiscent of a county fair, very real, well-browned, and with an assortment of sizes comes an assortment of crispiness - I loved the smaller pieces. These are standout fries and I'd gladly eat them any time, plain or with any of the toppings.
A Manhattan BurgerFi location got good marks from a NY Mag review, which highlighted the chain's vegetarian options.
And here's the Yelp page for a BurgerFi location in Poughkeepsie.
Why so many burgers?
Upscale burger chains are a thing right now around the country. And it's happening here, too. Already on the scene:
+ Five Guys
+ Smashburger
+ Burger 21
+ Juicy Burger
And there are a handful of other chains elsewhere fighting to carve out a spot. The most notable, of course, is Shake Shack -- which just had an IPO. Total, wild, no-information speculation: We suspect it's a good bet there will be a year-round Shake Shack location in the Capital Region within three years. (There's already the seasonal stand at the Saratoga Race Course.) IPO money + market expectations = big push to expand.
Among the two big things behind this trend:
1. Chipotle is huge example that people are willing to pay a bit more for better fast food.
2. Burgers are relatively easy to chain. And that means an ability to rack up revenue quickly. This isn't really news -- McDonald's demonstrated this fact decades ago. But, again, Shake Shack is the example. The company originally behind it -- Union Square Hospitality Group and restaurateur Danny Meyer -- is famous for its fine dining restaurants. Shake Shack was just an experiment in applying some of that culinary and restaurant know-how to a temporary burger pop up. And after it became an unexpectedly huge hit, the light went on that it's a heck of lot easier, and more profitable, to replicate a bunch of burger restaurants than it was to create a new restaurant like the Union Square Cafe. [NYT]
Say Something!
We'd really like you to take part in the conversation here at All Over Albany. But we do have a few rules here. Don't worry, they're easy. The first: be kind. The second: treat everyone else with the same respect you'd like to see in return. Cool? Great, post away. Comments are moderated so it might take a little while for your comment to show up. Thanks for being patient.