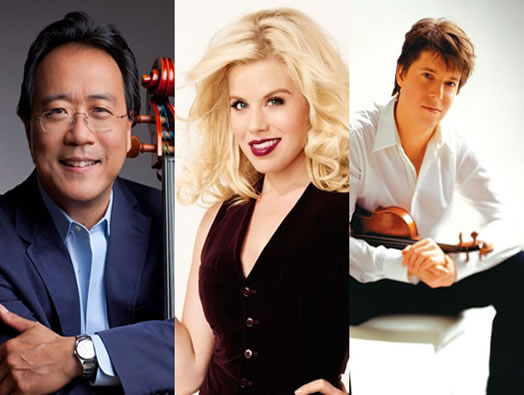 The Philadelphia Orchestra will be returning to SPAC this summer, August 5-22. The lineup of concerts is out -- it includes notable names such as Yo-Yo Ma, Bernadette Peters, Joshua Bell, and Megan Hilty. (There's also a Pixar night this year.)
A condensed version of the schedule is post jump.
Tickets go on sale to SPAC members today (March 3), and to the general public March 24.
All blurbage via SPAC
August 5: Opening night with Bernadette Peters
Bernadette Peters Vocalist
Full program TBA

August 6: French Connection
Stéphane Denève Conductor
Jean-Yves Thibaudet Piano
BERLIOZ Overture to Beatrice and Benedict
SAINT-SAËNS Piano Concerto No. 5 ("Egyptian")
PROKOFIEV Selections from Romeo and Juliet
August 7: An Evening with Yo-Yo Ma
Stéphane Denève Conductor
Yo-Yo Ma Cello
RAVEL Valses nobles et sentimentales
HAYDN Cello Concerto in C major
STRAUSS Don Juan
RAVEL Bolero
August 8: Pixar in Concert
Conductor TBD
Join us for a multimedia presentation featuring a montage from the soundtracks of Pixar's acclaimed films, including Toy Story, Finding Nemo, and UP!

August 12: All Beethoven
Christian Măcelaru Conductor
Emanuel Ax Piano
BEETHOVEN Overture, Coriolan
BEETHOVEN Piano Concerto No. 3
BEETHOVEN Symphony No. 3 ("Eroica")
August 13: Luck Be a Lady: Megan Hilty
Steven Reineke Conductor
Megan Hilty Vocalist
Selections from Broadway hits including Gentlemen Prefer Blondes, Wicked, Oh Kay!, and more.
August 14: Winter Tales
Bramwell Tovey Conductor
Members of New York City Ballet
RIMSKY-KORSAKOV Suite from The Snow Maiden
WALDTEUFEL "The Skaters'" Waltz
PROKOFIEV Peter and the Wolf
TCHAIKOVSKY Selections from The Nutcracker (with NYCB)
August 15: Heavenly Journeys
Bramwell Tovey Conductor
Johannes Moser Cello
DELIUS "The Walk to the Paradise Garden," from A Village Romeo and Juliet
ELGAR Cello Concerto
HOLST The Planets
August 19: An Evening on the Rhine
Yannick Nézet-Séguin Conductor
David Kim Violin
BRAHMS Tragic Overture
MENDELSSOHN Violin Concerto
BEETHOVEN Symphony No. 5
August 20: Tchaikovsky Symphony No. 5
Yannick Nézet-Séguin Conductor
Rest of program TBA
August 21: An Evening with Joshua Bell
Yannick Nézet-Séguin Conductor
Joshua Bell Violin
DVOŘÁK Serenade for Strings
BRUCH Violin Concerto No. 1
BRAHMS Symphony No. 3

August 22: 1812 Spectacular
Yannick Nézet-Séguin Conductor
Beatrice Rana Piano
GLAZUNOV "Autumn," from The Seasons
PROKOFIEV Piano Concerto No. 2
RACHMANINOFF/orch. STOKOWSKI Prelude in C-sharp minor
MUHLY Mixed Messages
TCHAIKOVSKY 1812 Overture