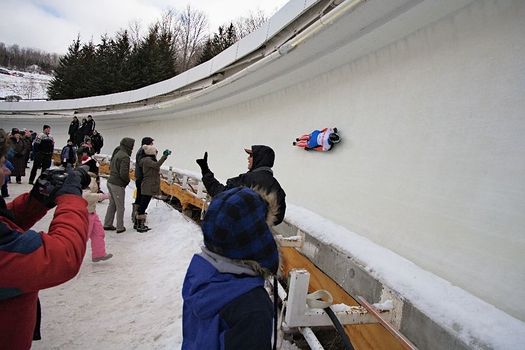 Every now and then the idea of New York State hosting the Olympics pops up. And it's done so again this week, with leaders in the North Country banging the drum about bringing the winter games back and both Chuck Schumer and Elise Stefanik offering generally supportive statements. [Lake Placid News]
This is not a good idea.
Let us turn our attention to the medal stand of reasons why not...
Bronze: The IOC
For whatever reason, global sports organizations often seem to take on the feel of a collection of international not-quite-super villains. It's like a bunch of members of SPECTRE decided to step back from trying to pull all the strings of international crime and have retired to a life of more relaxing bribery and straightforward manipulation. You know, what separates Sepp Blatter -- emperor of FIFA, the world soccer org -- from being a super villain? That he doesn't have a death ray? (That we know of.)
The International Olympic Committee is no different, described as "elitist, domineering and crassly commercial" and including many members with their own checkered histories. If you get into bed with this sort of org, you better be wearing one of those full body condoms.
Pshaw, you might say, compared to the rest of the world the United States is relatively uncorrupt, we can handle this. Yeah... history here would indicate otherwise -- see the 2002 Winter Olympics in Salt Lake City.
Silver: The scale
The Olympics -- even the Winter Olympics, which are notably smaller than the summer games -- are a huge event. The last three winter games have averaged about 1 million tickets sold.
In contrast, Lake Placid is not a big place. It's actually really small -- with just about 2,500 residents. And neither Lake Placid or the Adirondacks in general have robust transportation infrastructure.
Yeah, but it's already hosted two Olympics, you say. True. But the last one was back in 1980, and the games basically ended up there by default after all the other bidders dropped out. And even on the somewhat smaller scale of the games in that time period, the Lake Placid transportation logistics ended up being a nightmare -- so much so that the governor of New York declared a state of emergency.
Some of these problems could maybe be mitigated by the spreading the games out to other parts of New York, but many of those other places -- like the Catskills -- would have similar problems.
Gold: The cost
Hosting the Olympics is crazy expensive. We'll throw out the $51 billion price tag of the Sochi Olympics -- because Russia -- and go back to the 2010 Vancouver games, which cost an estimated $6.4 billion.
The cost has risen so high that many potential host countries have decided it just simply isn't worth it. The race for the 2022 Winter Olympics is now down to Beijing and Almaty, Kazakhstan after other countries dropped out over cost. And it's notable that Norway -- which would have been a very strong candidate given its winter sports culture, history of hosting a successful winter Olympics, and its huge pool of oil wealth -- decided the price was too high. (Sweden made a similar decision.)
And even if you can afford to host the games, they're just not a good investment for most countries because the jobs are temporary and it's hard to make back the money on the necessary infrastructure upgrades.
photo: Bennett Campbell
Hi there. Comments have been closed for this item. Still have something to say? Contact us.