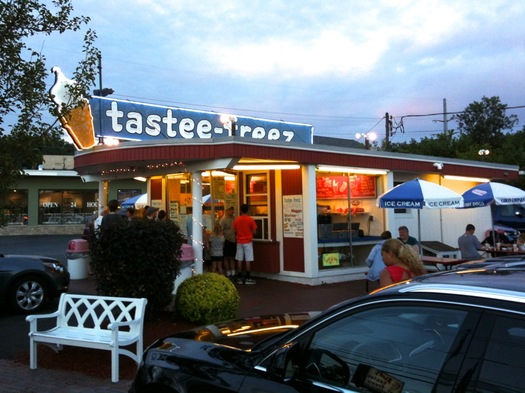 Breaking: Ice cream stand season has started.
Jim's Tastee Freez is already open. The Snowman opens later this week. And a bunch of other stands will open over the next few weeks.
Here's our annual rundown of a bunch of seasonal ice cream stands, with opening dates. In some cases the dates are TBA, or we just couldn't find out (yet). So if you can fill in some of the information in the comments, we'd very much appreciate it.
Because ice cream.
Jim's Tastee Freez in Bethlehem: Now open.
Snowman in Troy: Opening March 13.
Bumpy's Polar Freeze in Schenectady: Usual opening date delayed two weeks (as of March 7).
Twist in Glenmont: Hoping to open on, or before, March 17.
Kurver Kreme in Colonie: Planning to open around March 19.
Lickety Split in East Greenbush: March 20 -- hours will be 11 am until 10 pm (or so -- depends on weather).
Guptill's Coney Express Ice Cream in Latham: Opening March 21.
The Ice Cream Man in Greenwich: It's open year round, though it's currently on its winter hours. Spring hours -- 11 am-8:30 pm every day -- start March 22. (And it sounds like the Saratoga Springs location is headed for an April opening.)
Jumpin' Jack's in Scotia: March 26 at 11 am. There will be a line.
Country Drive-in in Clifton Park: Opening on or around April 1, according to message on the answering machine.
Mac's Drive-In in Watervliet: April 2 at 11 am, we hear via email.
The Dairy Haus in Saratoga Springs: TBA (sounds like it won't be long).
On the Farm in Latham: We don't know! Do you? Please share in the comments!
Corner Ice Cream in Guilderland: We don't know! Do you? Please share in the comments!
Ross' Ice Cream Stand in Slingerlands: We don't know! Do you? Please share in the comments!
Moxie's in Wynantskill: Usually opens around Mother's Day in May.
Got another place to add? Please share it in the comments.
And of course, year-round places -- such as Emack & Bolio's in Albany, and the Toll Gate in Slingerlands -- are also open. Because, you know, they're year round.
Hi there. Comments have been closed for this item. Still have something to say? Contact us.