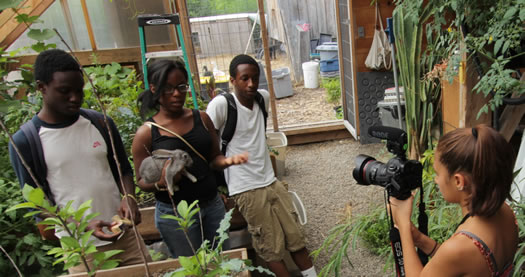 The award-winning YouthFX filmmaking program has the premiere of its 2015 short films lined up for March 26 at the Spectrum. Tickets are $11 adults / $7 for students. (Proceeds go to support YouthFX.)
Blurbage for this newest group of films:
Among the wide range of topics the Youth FX filmmakers explored this past year were documentaries about local refugee youth, a profile of a local legend from Grand Street, a story of two girls who fall in love against the wishes of one of their fathers, an exploration of Black hairstyles, and the program's first film written, directed and starring an all Karen, Burma cast.
The aim of YouthFX, part of the Grand Street Community Arts, is to help teens in the city of Albany become producers of media so they can tell their own stories. Films from the program have played in festivals around the world.
The screening at the Spectrum on March 26 starts at 6:30 pm, and it will be followed by a Q&A with the filmmakers. Last year's premiere event sold out, so if you're interested in going, it's a good idea to get tickets ahead of time.
Earlier on AOA: Hey there, Bhawin Suchak, YouthFX program director
photo: YouthFX