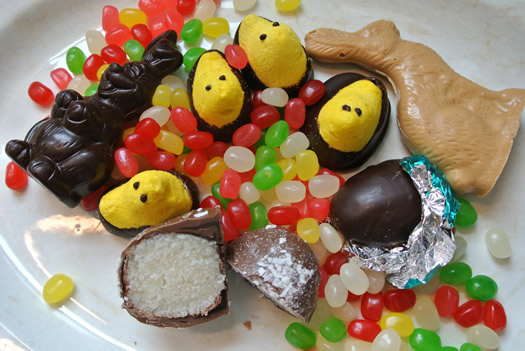 By Deanna Fox
I'm a little buzzed.
Sugar buzzed.
Just moments before I sat down to write this post, I subjected myself to tasting (that is, gobbling down) a selection of Easter-themed candies from Krause's Candy in Colonie.
As I rode the sugar wave, it became clear: Ditch the aisles at Big Box Store for filling holiday baskets, and make haste towards Krause's for your Easter treats.
As with most things in life, handmade products are often going to trump the mass-produced version, at least as far as quality goes. The same is true here: I knew the candy at Krause's would be better than the Big Brand items I would normally purchase for Easter baskets for my family. I just didn't realize how much better.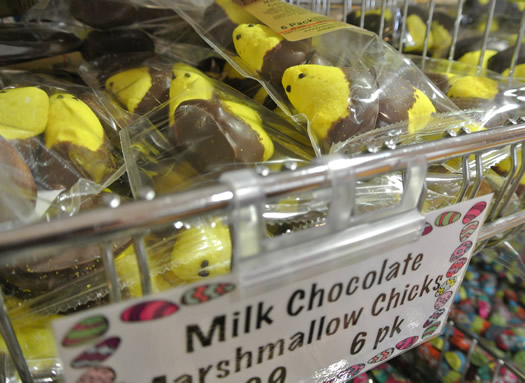 Let's start on the Peeps, er, marshmallow chicks. Krause's dips the bottom of theirs in chocolate (you can choose between milk and dark) for a delightfully snappy, sugared experience. Just like with the mass-produced version, a sweet film of fine colored sugar will stick to your fingers after picking a chick up, but that's where comparison ends. The marshmallow body of the chicks has substance, if that is a quality an airy marshmallow can have. It has heft. It doesn't just evaporate in the mouth after a few shallow chews. It melts slowly as the whipped sugar reacts to the wet heat of the palate and oozes across the tongue. You get the snap of perfectly tempered chocolate, but it melts alongside the marshmallow, making the chick more a single sip of hot chocolate in a handheld, pop-able form than a stale sheet of factory-made (though completely adorable) marshmallow candies.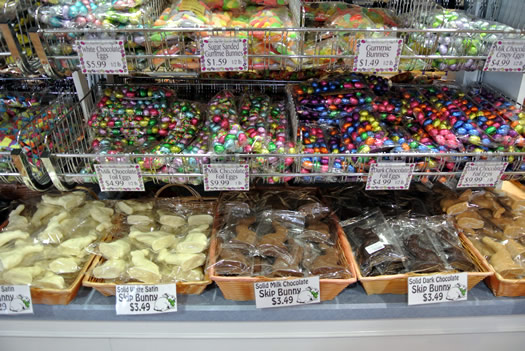 I'm a sucker for cream and fudge eggs at Easter, and the milk-chocolate coconut cream egg at Krause's did not disappointed. The $3.99 price tag might turn off some people, but you'll be eating that egg across several sittings. The coconut filling tastes pure and natural. The flakes that are suspended within are chewy, moist, and fine, indicative of professional-grade ingredients. The entire thing is dipped in several coatings of chocolate, the same expertly tempered product that enrobes other confections in the store. (Tempering, by the way, is the process of slowly bringing chocolate to its melting point. If done properly, it has a "snap" to it when cooled and bitten into, along with a subtle sheen. When done improperly, it looks waxy.)
There are several flavors of eggs to choose from (ranging from fudge fillings to creamy fillings), but if you can't decide, opt for a box of hand-picked flavors in a smaller shape (two-biters, I call them). A half-pound box will run you $6.99, or go all out for the four-pound, $55.92 box.
Let us not forget the piece de resistance in the Easter basket: The chocolate bunny. A large assortment is available at Krause's, ranging from solid chocolate to hollow versions, with flavors that cover the three chocolate bases: White, milk, and dark. The colored chocolate that adorns each rabbit it vibrant and lively.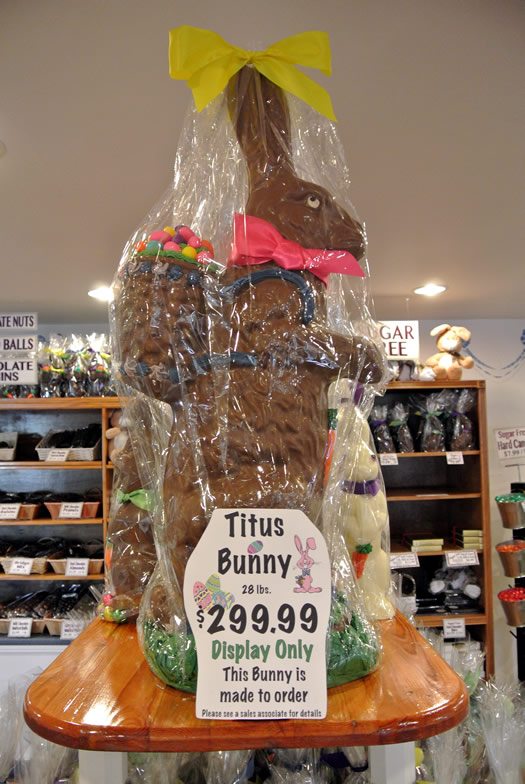 A "Wendel" bunny costs $2.49. Other bunnies include "Peter" ($9.99), "Cocoa" ($12.99), and "Buckley" ($59.99) -- but you can find anything in your price range from a mere chocolate bunny sucker for $1.49 to the order-ahead, 28-pound "Titus" for $300.
Yes, the rabbits are a bit more expensive than that you will find at the big box store, but the flavor is better, the quality is better, and the product speaks for itself as there is no frilly packaging that works to cover-up production inconsistencies and inferior quality.
Expert tip: Buy a half-pound bag of licorice (or spiced) jelly beans to cleanse the palate between servings of chocolate.
You know you always end up with dredges of candy nestled between the plasticine strands of faux-grass in that multi-hued basket; candy that will likely never be eaten. So why not spend just a bit more for candy that you will actually want to eat? Even if only one product in your basket comes from Krause's, it's better than nothing. And I'm positive after one bite, you'll be filling up your Easter basket next year with more.
Deanna Fox writes about many things, mostly about food. More can be found on her website, Twitter, or Instagram.
Find It
Krause's Candy
1609 Central Ave
Colonie, NY 12205
Hi there. Comments have been closed for this item. Still have something to say? Contact us.