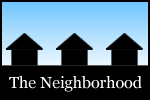 Among the topics in this most recent spin around the Capital Region's online neighborhood: the line, the game winner, flattery, American Express, half marathoning, frogs, winter, chit chat, salad, sushi, Route 7 Diner, Rock 'n Roll Brunch, Psychedelicatessen, popcorn, cheese sticks, critics, and Girl Scout Cookies.

Chuck took issue with a Times Union blog post about a mugshot.
Stephanie on what it was like be in SEFCU Arena for Peter's Hooley's game-winning shot.
Rob on the sincerest form of flattery.
Carl detailed the history of the Albany roots of both American Express and Wells Fargo.
Half-marathoning in Syracuse: Jen, Jona, Christine.
Jackie celebrated World Frog Day with some of her frog photos.
Silvia's finished with winter.
Amy on chit chat.
Lorre's "Lettuce Entertain You" salad series visited the Fresh Market.
Steve took a quick trip to Kingston for sushi.
The Traveling Brunchers stopped in at the Route 7 Diner.
Daniel says the line for Rock 'n Roll Brunch at the Low Beat stretched down to the corner.
Julie had breakfast at Psychedelicatessen in Troy.
Steve N. appreciated the popcorn at The Madison.
J+R indulged in cheese sticks from Ralph's.
Dominic on food critics (and a few other topics inspired by Marco Pierre White).
And Jon reported some numbers on this year's Girl Scout Cookie sales.
Hi there. Comments have been closed for this item. Still have something to say? Contact us.