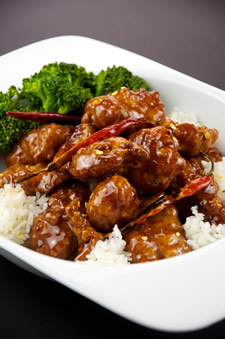 Sean emails:
General Tso's Chicken is a huuuuuge guilty pleasure of mine. It was a staple of my college diet. Trouble is, since moving out here to Albany, I've had a heck of a time finding somewhere that can give me a decent version, let alone a GREAT version. I was wondering if any of your readers shared my guilty pleasure and could point me in the direction of their favorite spot. I live in Albany and work in Latham so anywhere near either place is fair game.
General Tso's chicken has an interesting history (or histories), as illustrated by this short profile of the dish by Fuschia Dunlop. Its roots can be traced back to the Hunan province of China, but like a lot of Chinese food in the United States it went through some interpretation and change before becoming popular here. In this specific case, the thread runs through Taiwan, New York City, Henry Kissinger (really), and back to China. (OK, culinary history tangent over.)
Aside from Ala Shanghai and Hong Kong Bakery & Bistro, we don't hear much about individual Chinese food restaurants around the Capital Region. That is undoubtedly our fault -- we're probably not listening in the right places. So, this question is a good opportunity to maybe learn a little bit more.
Got a suggestion for Sean about a good place for General Tso's chicken -- or good Chinese restaurants in general? Please share!
photo: Evan Joshua Swigart (TheCulinaryGeek) on Flickr (CC BY 2.0)
Hi there. Comments have been closed for this item. Still have something to say? Contact us.