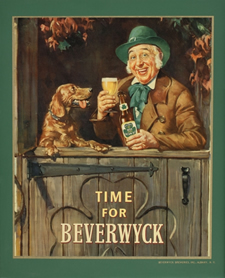 The Hudson Valley Hops event returns to the Albany Institute April 18.
The event will again include regional craft beer and cider tastings, and an opportunity to check out the brewing and distilling items in the museum's collections. Also: Chatham Brewing will be creating an "Albany Institute Ale" exclusively for the event. Blurbage:
While Chatham Brewing has created custom beers for bars and restaurants, this is the first time they are making one for an event. The theme of Hudson Valley Hops inspired them to try to get as close as they can to an all 100% New York State beer. According to [Tom] Crowell, the beer can be described as "a standard ESB [Extra Special/Strong Bitter]" with a nutty sweetness. Albany Institute Ale was made with New York State 2-row pale malt as a base; some Light and Dark Crystal to show off a copper hue and give a slight caramel flavor; and local Columbia County grown hops, including Cascade from Germantown Hop Farm and Nugget from Spring Hill Farm to add a subtle bitterness. Although it is called an extra special bitter, compared to an IPA, this will not be a bitter beer.
There will also be a handful of guest speakers throughout the evening talking about food, brewing, and the history of brewing in this area.
Hudson Valley Hops is Saturday, April 18 from 4-7 pm. Tickets are $35 ahead / $40 at the door.
The Albany Institute advertises on AOA.
"Time for Beverwyck," Beverwyck Breweries, INC. / Albany Institute of History & Art