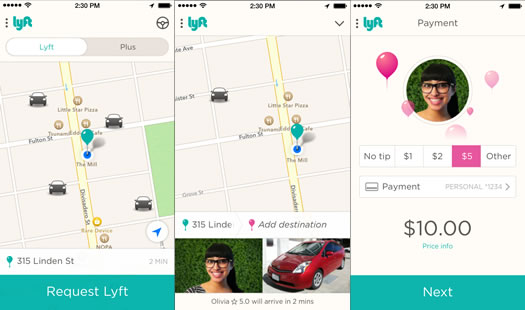 Officials from the taxi-app company Lyft were in Albany recently to meet with city officials.
Matthew Peter, chief of staff for Albany mayor Kathy Sheehan, told us this week that representatives from Lyft had been in for a meeting "about two weeks ago." Peter described the meeting as a "very generic introduction" and said Lyft was currently in the process of introducing itself to cities. He said the Sheehan administration is looking into the topic and doesn't have a position on it.
"We're talking to cities across the state to see if there's a need for increasing safe and affordable transportation options," Lyft spokesperson Chelsea Wilson said to AOA this week when we asked about the meeting. "And we've heard that people want options like Lyft."
Lyft -- and competitors such as Uber -- have become key players in the taxi ride market in many cities around the country, all while pushing against what the companies say is outdated regulation and critics charge they're using unfair advantages.
New York State
The only part of New York State in which Lyft currently operates is New York City. It operated in Buffalo and Rochester for a few months last year, but ended service there in July after the state raised objections to the company's insurance situation. (Lyft's operation in Rochester had also faced a possible speed bump after the city informed the company it would have to comply with local regulations.) It then started service in New York City with commercial drivers in order to comply with current laws and regulations. A company blog post said it would be working to "align New York State's insurance laws and regulations with emerging technologies of the 21st century." [Buffalo Business First] [Rochester D&C] [Capital] [Lyft]
That effort appears to have resulted in legislation recently introduced in both the state Senate and Assembly. The bills would allow group insurance policies for "transportation network companies." It would also set definitions and regulations for these companies -- among them background check requirement for drivers, and a prohibition on cars picking up people who haven't requested a ride through the app (so, no "street hails"). And it would not require vehicles participating in such systems to obtain for-hire or commercial registrations.
The bills have been referred to committee in both chambers.
What exactly is a "transportation network company"?
Lyft is basically a service that connects riders with drivers (and their cars) via a mobile app. (UberX is Uber's version of the service.) California's Public Utilities Commission decided in 2013 that these sorts of services differed enough from traditional taxi services that they should get a new label -- the "transportation network company" -- and issued a set of rules for them. Those rules included provisions related to state licensing, driver background checks, inspections, and drug/alcohol policies. [CPUC]
As you might expect, traditional taxi companies haven't been pleased that this new category of competitor has popped up. A cab company official in LA complained to NPR in 2013 that these companies are basically offering the same services as a taxi, but don't have to follow all the rules. And last fall the companies won legalization in Washington, DC over the objection of local taxi services. [NPR] [WAMU]
Zooming out a bit, Lyft and Uber are both part of what's been described as the new "sharing economy," in which companies facilitate flexible, on-demand transactions between people who need something (a ride, a place to stay overnight, an errand run, etc.) and individuals who have that thing (a car, an apartment, time to do that errand, etc.) AirBnB is another prominent example (which has encountered its own regulatory friction). [NYS OAG]
These sorts of companies have been hailed by some as innovators. But skeptics have argued these services are actually about shifting risk from the center (the big corporation) to the edges (individuals) of a system. And in the case of the transportation companies, there have been questions about whether the drivers involved are employees rather than independent contractors. [Washington Post] [Slate]
These questions haven't stopped the companies from growing. Uber is said to have a $40 billion valuation, and Lyft has raised more than $800 million in venture capital. [NYT] [Crunchbase]
Local demand
There's another angle to the potential arrival of Lyft and similar services here in the Capital Region, one that could have a big effect on demand for the services: there is apparently strong public sentiment that current taxi service in this area is often bad.
That's not exactly news, but the issue has gotten more attention lately because the Albany Convention and Visitors Bureau has been surveying the public about taxi experiences since last November. And many of the responses have been harsh.
Survey responses provided to AOA this week by the ACCVB include complaints about dirty cars, unclear fares, unreliable service, and rude drivers. Here are the comments that were passed along (they include a few compliments, too):
ACCVB Taxi Report Comments 2015-04-01
Similar complaints prompted a small local campaign to attract Uber to the area about a year ago.
Officials have previously said the state of local taxi service concerns them because it's often the first interaction many visitors have when arriving in the area. Also: taxi service can be an important part of the transportation picture for people who don't have cars or can't drive.
Schuyler Bull, the director of marketing for the ACCVB, told us this week the org recently met with local elected officials about working toward a regional approach to the taxi issue that could span the area's many municipalities.
A service such as Lyft or Uber would provide a different sort of option in the local taxi market -- and potentially competition that could shake things up. In cities such as DC, LA, and Chicago the success of Uber and similar companies has prompted taxi cab commissions to work on creating their own ride-request apps. [Next City]
Hi there. Comments have been closed for this item. Still have something to say? Contact us.