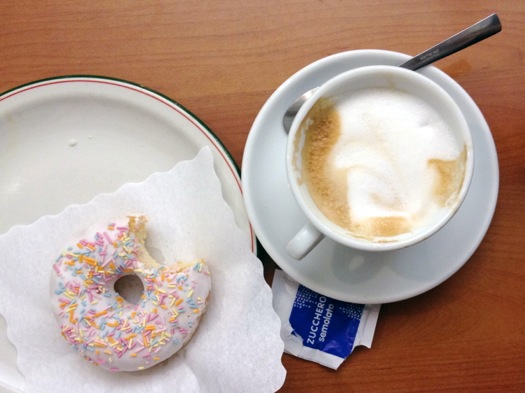 By Lauren Hittinger
I would not consider myself a coffee snob. I don't have a favorite barista or monitor the time between the grinding and brewing of beans. And, sin of all sins, I own a Keurig.
However, there is one beverage that I am beyond picky about: the cappuccino.
Ever since visiting Italy last year, I have been searching for an authentic Italian-style cappuccino in the Capital Region. I have been discouraged by insanely large cup sizes and creations that more closely resemble a latte, filled with excessive amounts of milk.
So, in an effort to find a cappuccino like the versions I had in Italy, I recent visited five top cafes in search of my local favorite.
The guidelines
I fell in love with cappuccino in Italy, where espresso-based drinks are everywhere. Every café, restaurant, bar, and rest stop has an espresso machine and a barista happy to serve you a caffeinated beverage at any time of day. The small servings of hot espresso and light, foamy milk were the perfect morning pick-me-up. Upon my return to New York, I've rarely found anything remotely similar to my dear Italian beverage. Even though customs are different around the world, it turns out that my expectations of cappuccinos are not entirely unfounded.
At its base, a cappuccino is a mix of espresso, steamed milk, and milk foam. If you look at the guidelines for the World Barista Championship and the US Coffee Championships, they both agree a cappuccino should have a flavor balance between the espresso and the sweetness of the milk; have at least 1 centimeter of foam on the top; and should be between 150 - 180 ml (roughly 5-6 ounces).
The fine tuning goes on from there, with final flavor affected by the beans used, the grind, quality of espresso machine, water filtration systems, and skill of the operator. While I paid attention to the process of making each drink, I was most concerned with the final presentation and flavor.
Stacks Espresso Bar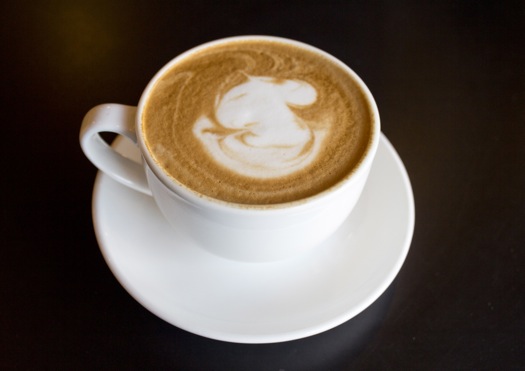 After reaching out to Daniel B. for guidance -- he is, of course, very discerning about these sorts of things -- I started my journey at Stacks Espresso in Albany, which has a hip interior to go along with excellent equipment and knowledgeable staff.
I tried both a regular cappuccino as well as a dry cappuccino, which has more steamed milk on top. I really enjoyed the flavor of the espresso in the Stacks cappuccino, which was strong but not overpowering. The milk foam had nice texture with lots of little bubbles and a creamy mouth feel. This drink was definitely a good balance between the complex, rich flavors of the espresso and the sweet creaminess of the milk. Even so, the cappuccino still didn't hit home for me. While delicious, the regular cappuccino didn't seem to have enough foam, while the dry version had just a touch too much.
This was certainly a good option, but I continued my search.
Lucas Confectionery in Troy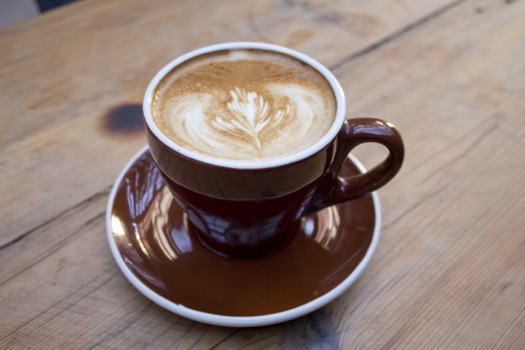 The Confectionery holds the distinction of selling Blue Bottle Coffee, the Oakland-based company that's become a well-known brand name among coffee connoisseurs.
The cappuccino arrived with delightful latte art and lots of little micro bubbles on top. The presentation was a nice treat for the eyes. However, I felt like the balance of ingredients was off, with not enough foamed milk and too much liquid overall. I'm not sure it would have passed the 1-centimeter of foamed milk guideline. There was a bold espresso flavor throughout, but I can't help but feel like the deep and rich espresso flavors overpowered the creaminess of the milk.
Uncommon Grounds, Saratoga Springs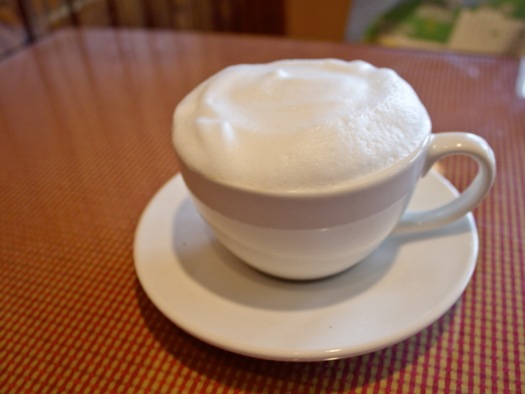 This cappuccino was served with a veritable mountain of foam on top. While I appreciate their attempt at delivering over a centimeter of foamed milk, the foam had large bubbles and was just too much. With the first couple sips, it was difficult to taste anything beyond that foamed milk. And, unfortunately, I found the espresso flavor to be too earthy, leaving a disagreeable aftertaste in my mouth.
I wanted to like this cappuccino more since I love the ambiance and casual atmosphere of Uncommon Grounds, with beans roasting in the background. But it's very unlikely that I'll order a cappuccino from here again. It was just tasted sharp and bitter overall to me, even with the light foam on top.
Tierra Coffee Roasters, Madison Avenue in Albany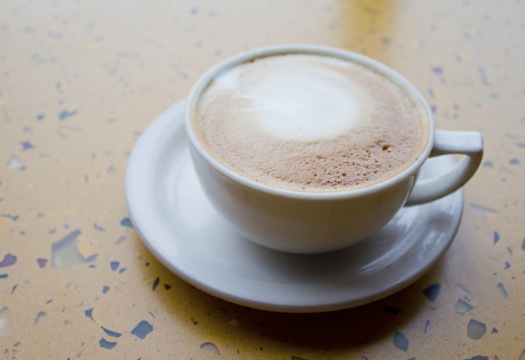 When taking my first sip of the Tierra cappuccino, I was pleasantly surprised with the foam. There was enough foam to provide a nice, rich top to the drink without being stacked ridiculously high. Each sip delivered a bit of foam, milk, and espresso flavor in a really nice balance of bitterness and sweetness. I felt like I was drinking the layers all at once, like a nice bite of cake.
At first the coffee seemed a little bitter, but that faded after a couple of sips, and I ultimately feel like Tierra had a friendly, smooth espresso. Even at the end of the drink, there was still a bit of foamed milk left in the cup, which was a sign that this cappuccino followed my guidelines.
Hudson River Coffee House in Albany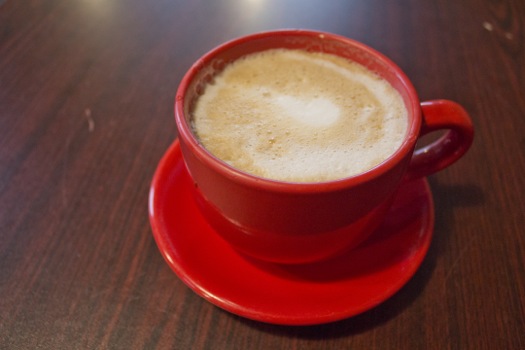 When I arrived at Hudson River Coffee House I was surprised to see only one guy behind the counter, hustling to keep up with the flow of customers. This place has a different vibe from many other local cafes -- a more down-to-earth, college feel, with mismatched furniture of varying shabbiness. Regardless, everyone seemed very nice, and it wasn't long before I had my cappuccino in hand.
There was a good amount of foamed milk on top, with slightly large bubbles. I wasn't blown away by the espresso, as I felt it was a touch bitter. (The beverage was also quite hot, and I had to wait for my drink to cool a little before enjoying it, which I've never encountered with a cappuccino.) The flavors in this cappuccino just were not as rich and dynamic as I would have liked, especially when it came to how the espresso and milk interacted. This version, for me, wasn't a standout.
Summary
I enjoyed the Stacks cappuccino, with its good balance of complex espresso flavors and the sweet creaminess of the milk. Even so, it didn't quite take the top spot for me.
My favorite out of the handful of shops I visited ended up being the cappuccino from Tierra. It had a great mix of the three elements of a cappuccino, with a nice amount of silky foam. And it was the closest cappuccino to what I've been searching for since Italy.
Lauren writes about shopping, crafting, and living well on a small budget at The Thrifty Ginger.
Hi there. Comments have been closed for this item. Still have something to say? Contact us.