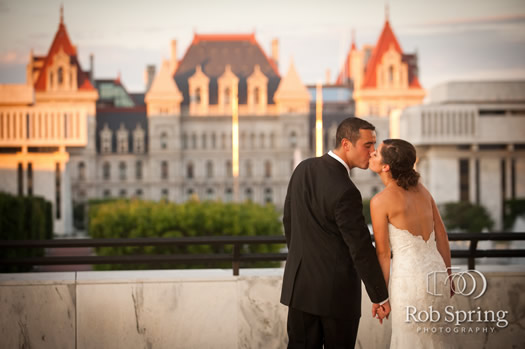 By Lauren Hittinger
With spring finally here, wedding season is upon us. If you haven't been inundated with this year's save-the-dates already, be prepared for the invitations to start rolling in soon.
Every year there are new wedding trends. And in recent years it's been especially nice to see local couples incorporating their love of the Capital Region into their big day.
So, to get a sense of how people are planning this season, I chatted with three local wedding planners. They gave me the scoop on what's new, interesting, and different in the regional wedding scene.
The Planners
+ Shannon Whitney is the owner of Wedding Planning Plus, an 8-year-old event planning business that works with a lot of out of town couples planning Capital Region weddings.
+ Sarah Fichtman, of Bisou Weddings and Events, runs a customizable full service event planning company. They pride themselves on being able to work on a budget.
+ Mary Elise Rees recently started her small bespoke event design business, which focuses on couples looking for a creative and artistic approach to their wedding.
I talked with each planner separately -- their answers have been grouped by topic.
What are some ways Capital Region couples can incorporate local flair into their weddings?
Shannon Whitney: Specifically, Saratoga has some very iconic pieces to it. Couples get married in that area and have a horseshoe theme, or do welcome bags with blue bottle Saratoga Water, or have potato chips, which were invented in Saratoga.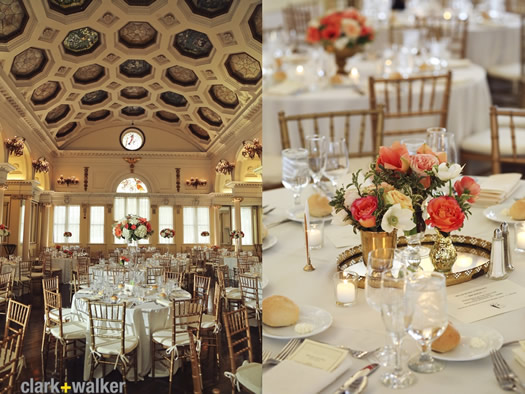 Canfield Casino in Saratoga Springs. / photo: Clark+Walker
We just had a wedding this past year with a couple that met in college in Albany and they used the Albany skyline as a design element that was cohesive throughout all of their stationary. They had an Albany-centric wedding and got married at the NYS museum. And they had the Albany skyline on one of their layers of the wedding cake.
Mary Elise Rees: Using local farms for the wedding, farm-to-table meals, sourcing from farmers' markets and finding vendors that way. Seeking out local business for things like the bar, using Ommegang or Rare Form or Albany Distilling and keeping it completely local. It's a nice touch if you have a lot of guests coming from out of town because they get a sense of what this region has.
The favors are also a really easy way to include local businesses. I've seen heirloom seeds as favors. I was talking to Cider Belly and a ton of weddings all want donuts, and they do favors as well.
In your opinion, what's a unique or interesting local venue?
Mary Elise Rees: Basilica [Hudson] is probably the most unique venue I've seen around here. They have really cool chairs, and it's an old factory. Takk House is a really cool as well. They're both sort of blank canvases that couples can then customize -- really pretty blank canvases.
Sarah Fichtman: I find a lot of the unique venues I work at are a little further out. One of my favorites is Nipmoose Barns in Buskirk, New York. It's three different barns that have been beautifully restored. It's by far one of the most beautiful outdoor venues, and is quickly becoming very popular. Mansion Inn is also a really quirky unique venue. I like working there.
Shannon Whitney: In Albany, Troy and Schenectady, there's been a surge of venues that have opened up that are converted banks. Albany has three, Schenectady has one attached to Proctors, and Troy has Franklin Plaza. That's a unique feature to this area. These converted banks are really cool, because they're from back in the time when banks were built as very prestigious buildings. They have columns, marble, and old vaults. The vault is used differently in each venue: as lounge space, or the entrance space that the couple comes through, for example.
What new vendor are you most excited about?
Sarah Fichtman: Laurel And Marie Stationery. She's fantastic. Her work is amazing, and pricing is phenomenal for the product. Stationery is important for me, I find it to be an important part of the planning process. You want to make something as personal and customized as you can, and you start that with your invitations and save-the-dates.
Mary Elise Rees: True North Bridal is new and I see them as being a really go-to place to get bridal gowns. They do a lot of independent designs, and have gowns in a lot of colors. Some of their gowns are natural, with eco-sourced silks and materials. It's a different experience when you make an appointment there, because you're the only one. Katee [Scoblic, the owner] is super sweet and warm. She has an aura that makes the place just feel good.
What are some recent wedding trends, especially locally? What can we expect to see in weddings this year?
Shannon Whitney: The trend of being custom and personal and unique is going to continue. Couples are trying to make their wedding their own by incorporating pieces of their life: hobbies, interests, whatever. Couples may be looking for a smaller guest list -- keeping it more intimate, to the most important people in their lives, not just everyone they know.
Sarah Fichtman: One of my favorite trends right now is what we call the naked cake, which is essentially an unfrosted cake. It's tiered and you see the buttercream between the layers. Typically decorated with fruit.
Marquee lights are really in right now. A lot of my clients are incorporating that into their reception. Have the word "love," or their monogram, or the first letters of their names.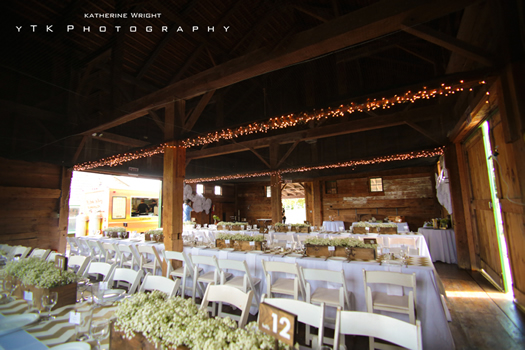 Indian Ladder Farms. / photo: Katherine Wright YTK Photography
Venue-wise, I don't think barn weddings are going anywhere any time soon.
There's always, for me and the people I work with, more and more people are personalizing their weddings as much as possible. It just makes me so happy. People are doing at least some element of DIY to add that personal touch to their wedding, which is so much fun from a wedding planner's perspective.
Mary Elise Rees: Donuts are in. Cupcakes are out. (laughs)
At least in the market I'm in, I'm seeing a shift towards small business and supporting local. That's happening in weddings as well as in the community. They're thinking the same way as when they go grocery shopping: wanting to buy from a farm, and buy locally.
I'm also seeing gender roles being put in the past, and seeing more and more couples having brides-mans and grooms-maids. I'm also seeing a lot more brides not wearing gowns. There are pantsuits, lady tuxes, and jumpsuits. That's more of a general trend that I really love.
____
These interviews were lightly edited, condensed, and grouped together.
Lauren writes about shopping, crafting, and living well on a small budget at The Thrifty Ginger.
Earlier on AOA: Lauren's series about planning her wedding last year
Say Something!
We'd really like you to take part in the conversation here at All Over Albany. But we do have a few rules here. Don't worry, they're easy. The first: be kind. The second: treat everyone else with the same respect you'd like to see in return. Cool? Great, post away. Comments are moderated so it might take a little while for your comment to show up. Thanks for being patient.