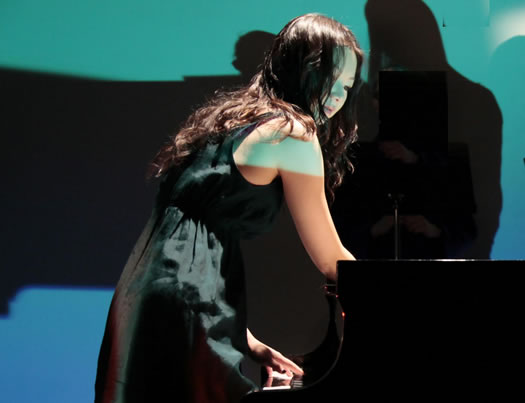 Drawing's closed!
EMPAC has what sounds like an interesting show coming up this Saturday: Pianoply, in which four pianists will be playing pianos in four different spaces at the arts venue.
We have a pair of tickets for the event, and we're giving them away. BUT WAIT, THERE'S MORE. To the pair of tickets we're also adding a $75 gift certificate to Peck's Arcade, the new restaurant in downtown Troy.
To enter the drawing, please answer this question in the comments:
What's one of your favorite sounds?
It could be something general, like laughter, or a specific sound in a specific place, like the carillon in downtown Albany. We'll draw one winner at random. That person will get the tickets and gift certificate.
Here's a little more about Pianoply:
This evening of piano performances brings together some of the leading soloists working today in new music to explore their instrument's full color spectrum in EMPAC's complete range of acoustic environments. Performing on grand pianos of varying sizes and manufactures, Pianoply will examine virtuosity through the lens of situation and setting.
Pianoply will feature soloists Vicky Chow, Stephen Drury, Mabel Kwan, and Marilyn Nonken, performing on a selection of pianos: a 9' Hamburg Steinway, 9' New York Steinway, 7' Fazioli, 6' 7" Bösendorfer, and 7' 6" Yamaha pianos.
The audience will be guided through all of EMPAC's venues--the reverberant warmth of the Concert Hall, the intimacy of the Theater, the detailed crispness of Studio 1 and the enveloping diffusion of Studio 2--to explore the sonic properties of contemporary repertoire performed through particular instruments placed in particular spaces.
The event starts at 7:30 pm on Saturday, April 11. Tickets are $18.
Important: All comments must be submitted by 10 am on Thursday, April 9, 2015 to be entered in the drawing. You must answer the question to be part of the drawing. (Normal commenting guidelines apply.) One entry per person, please. You must enter a valid email address (that you check regularly) with your comment. The winner will be notified via email by noon on Thursday and must respond by 7 pm that day.
Hi there. Comments have been closed for this item. Still have something to say? Contact us.