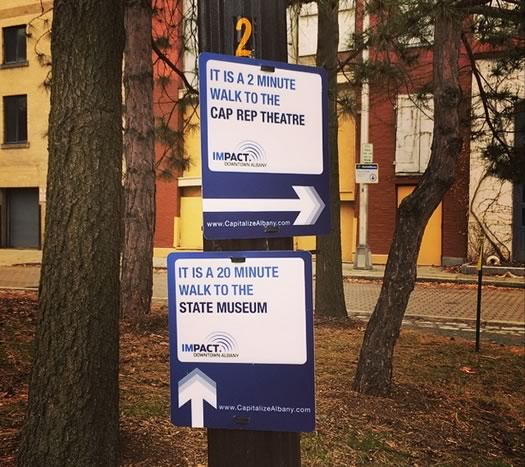 A few weeks back we posted a short bit about Walk [Your City], a project in other cities aimed at addressing the "it's too far to walk" issue.
As it turns out, there are already similar signs here in Albany. Nicole spotted a few of them in downtown Albany this week (that's her pic above).
The signs went up last fall as part of the "tactical urbanism" plan that Capitalize Albany is pursuing, the org's president, Sarah Reginelli, told us this week. The signs in Albany were inspired by Walk [Your City].
"The intent was to show the wealth of approachable opportunities within walking distance of the employment and retail center at Tricentennial Park," Reginelli said to us in an email. "It's all about embracing walkability. This method helps get the public, who may be used to walking directly to one destination, to alter their choice of transportation methods when going between others, or to explore their environment beyond what they are used to."
Reginelli said the current signs are a small test program -- there are seven of them around the Tricentennial Park area -- before possibly making a bigger investment in the idea. She said Capitalize Albany welcomes feedback about them as it thinks about the signage's future.
Speaking just from our own experience, the more you walk or take the bus, the more your mental map of a place -- and that sense of "how far" things are from each other -- changes. You can actually get pretty far in 15 minutes while walking. But that's sometimes hard to internalize until you make the trip a time or two.
Hi there. Comments have been closed for this item. Still have something to say? Contact us.