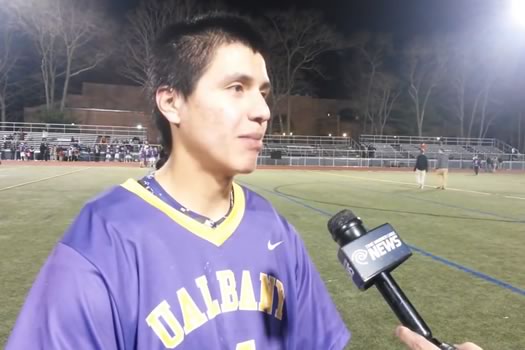 UAlbany lacrosse star Lyle Thompson now holds the NCAA Division 1 career record for most points after two goals and an assist Tuesday night in a 10-8 Great Danes win at Bryant.
Thompson has racked up 357 points in his college career on 155 goals and 202 assists -- 5.7 points per game. That rate is bonkers. It's good for 6th all time -- and Thompson is the only one in the top 20 on the list to play during the last 15 years. Thompson also holds the record for most points in a season, which he set last year. (His 2013 season ranks 4th all time.) He's averaging 6.5 points per game this season, best in Division.
Thompson and his brother Miles were the first co-winners of the Tewaaraton Trophy last year (the trophy is like the Heisman for college lacrosse). They were also the first Native Americans to the win the trophy, which is especially significant because the game was invented by Native Americans. The Thompsons grew up on the Onondaga nation just south of Syracuse.
The UAlbany men's lacrosse team is ranked #8 this season. The Great Danes are the highest-scoring team in the nation at 17 goals per game -- the next closest team (Syracuse) is averaging 15.45 goals per game.
UAlbany takes on #7 Yale this Saturday at 7 pm at Bob Ford Field. Tickets are $7.
screengrab from UAlbany Athletics