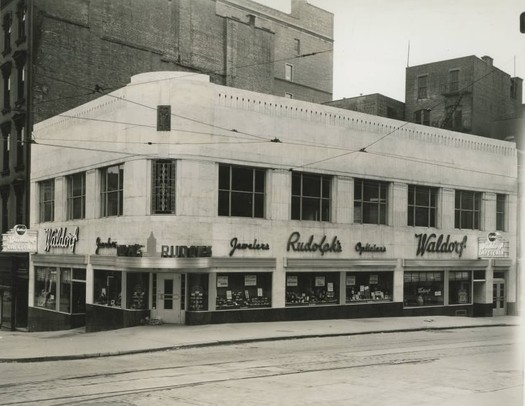 This photo caught our eye this week as we browsed through the Albany Public Library's growing online collection of historical images. The building -- which housed the Waldorf Cafeteria and Rudolph's jewelry -- was on the southeast corner of State and Pearl in downtown Albany. (Here are two more angles from the Albany Flickr group.) This photo is from 1945.
We kind of love the signage.
Curious about the Waldorf Cafeteria, we did a little bit of research. The "Waldorf Lunch System" was one of the first restaurant chains -- it started in Springfield, Massachusetts in 1904 and eventually expanded to seven states. Here's a clip from some advertising copy for the chain, as highlighted by the trade publication Cafeteria Management in 1922:
HOW A SMALL BANK ACCOUNT -- PLUS A BIG IDEA -- BECAME A $10,000,000 BUSINESS.
More than 17 years ago the first Waldorf Lunch opened its doors to the people of Springfield, Mass. That Waldorf represented an idea, backed by all its founders savings -- the most sum of $1,800. But it was a good idea -- and it prospered because it performed a service the public wanted, and did it well.
Today that idea is represented by the familiar Waldorf Lunch establishments in this city, and in twenty-seven other cities in seven States.
The foundation idea of the Waldorf system is this: the undeviating purpose to maintain worthy dining-laces where they will perform real public service, the purpose to serve tasteful food of unquestionable quality to men and women at such small profit per person that we shall have many patrons to make those small profits profitable to our employees and shareholders.
During the past year the lunch rooms of the Waldorf system have served more than 37,000,000 meals at an average of less than twenty-eight cents each, and at an average profit of a fraction over two cents per meal.
Over $10,000,000 of annual business built up by efficient management, uncompromising standards of quality, cleanliness, courtesy and quick service!
There'll be good, fresh coffee at the Waldorf Lunch today. It's always the same.
The writer of the trade mag article described that last paragraph of the ad copy as "the touch of the word artist."
photo via Albany Public Library History Collection
Hi there. Comments have been closed for this item. Still have something to say? Contact us.