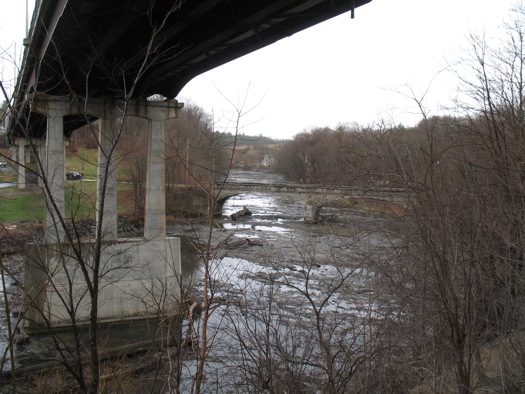 Updated Tuesday morning: The Times Union reports that water is once again flowing. Crews used to pumps to keep the water the level down while a new trench was dug to divert the water. [TU] [Albany County Sheriff Craig Apple Twitter x2]
____
Updated
A landslide on the Bethlehem side of the Normanskill blocked the stream Monday. Officials were worried about flooding -- a state of emergency was declared early Monday afternoon. Albany County statement:
Albany County Executive Daniel P. McCoy has declared a State of Emergency in Albany County in the areas bordering the Normans Kill effective at 12:30 p.m. today. This State of Emergency has been declared due to slope failure on the Bethlehem side which has dammed up the Normans Kill. There is a high potential for flooding upstream. Currently there is no water flowing below the blockage. The situation threatens public safety. This State of Emergency will remain in effect until rescinded by a subsequent order. All departments and agencies of Albany County are directed to take whatever steps necessary to protect life and property, public infrastructure and provide such emergency assistance deemed necessary.
Crews are working to remove the blockage and allow water through.
The area of the collapse on the section of the Normanskill between the Capital Hills and Normanside golf courses. The city of Albany has closed Capital Hills, including to walkers, during the work.
Here are few more pics...
These two embedded tweets are from Albany County exec Dan McCoy. He's posted a few other pics from the scene:
Photo of slope failure near Normans Kill. #Albany County State of Emergency in effect for area. @BethlehemNY pic.twitter.com/AaybdIgnY8

— Dan McCoy-CountyExec (@MCCoyCountyExec) April 20, 2015
Bethlehem Normans kill ground zero pic.twitter.com/dkI35RLW4y

— Dan McCoy-CountyExec (@MCCoyCountyExec) April 20, 2015
Looking east along the Normanskill at Delaware Ave: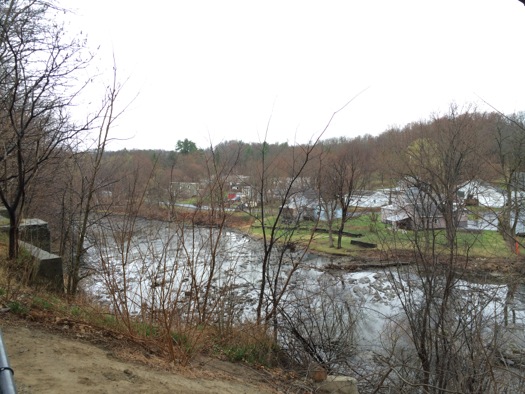 From the outcropping on the Normanskill roughly where the Normanskill Farm and Capital Hills properties meet on the Albany side (looking to the west):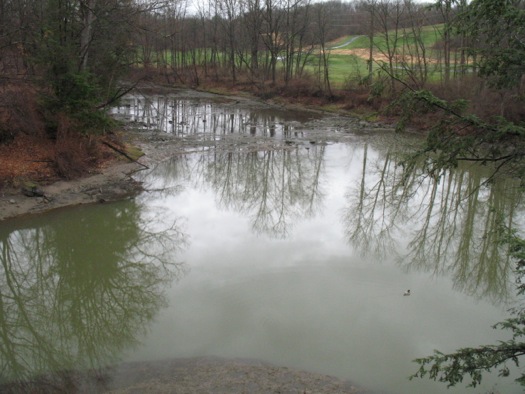 On the Bethlehem side, where McCormick Rd deadends into the stream. This was the water level as of about 3:30 pm -- there appeared to be very little current: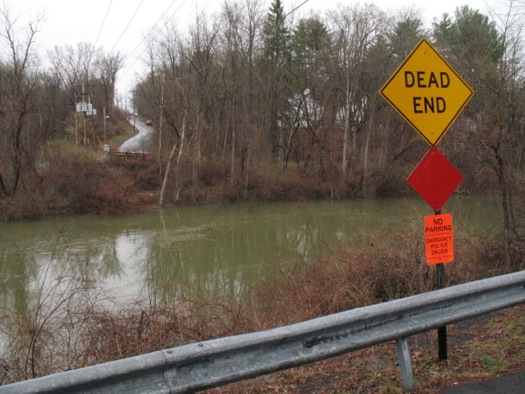 In 2000 a large portion of a bank (p 14) along the Normanskill near Delaware Ave collapsed, closing the road for three months. The restoration process involved rerouting the stream.
Hi there. Comments have been closed for this item. Still have something to say? Contact us.