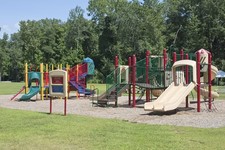 Sean emails:
In our kid-free days my wife and I liked exploring different bars + restaurants across the region. Now that we have a kid, we like exploring parks! Our kid is just old enough where he can navigate playscapes at the park by himself. Aside from the small rotation of parks we like to hit near our house in Albany, we'd love to branch out and explore some really amazing parks in the region at large. Do you have any favorites or know of any especially fun ones that you can reach within an hour featuring something a 2+ year old can climb on? If so, we'd love to hear about them!
Some of the parks around the region that Lauren highlighted last summer/fall have some fun things for kids to climb around on.
Got a specific suggestion for Sean and his family? Please share!
Hi there. Comments have been closed for this item. Still have something to say? Contact us.