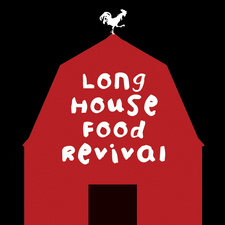 A few food/media programs this summer in Rensselaerville that might interest some people:
Longhouse Food Scholars Program
This year's Longhouse Food Scholars Program is July 5-19 and July 26-August 9. Its mission "is to prepare participants for careers in food media, activism, food writing, and food-related entrepreneurial ventures." Additional blurbage:
The Food Scholars Program is structured like a newsroom, intense and fast-paced, with distinct deadlines and deliverables. Working with masters of their craft, scholars shoot and edit mini-documentaries and slide-shows, conduct interviews, gather oral histories, and create online content.
This food media "boot camp" includes daily writing exercises, weekly specialty seminars in recipe testing, studio and location food photography, basic culinary skills, weekly "salon" dinners with food authors, professors and intellectuals, and professional mentoring sessions.
In addition, each scholar is responsible for creating a personal, online portfolio--drawing from this work as well as any additional work he or she may have.
The founder of the program is longtime food writer Molly O'Neill.
The application process is competitive -- "selection is based on a passion for food and storytelling, a well-established appetite for learning, and well-stated career goals." We hear that they'd welcome some more applicants from upstate, so it could be a point in your favor.
Longhouse Food Revival
This year's Longhouse Food Revival is again set for September (it looks like the exact dates haven't been released, yet). The event "combines original multimedia presentations, curated discussions, insight from leading thinkers in food and plenty of time to make new friends, forge new connections and inspire and brew new ideas."
(Thanks, L)
Hi there. Comments have been closed for this item. Still have something to say? Contact us.