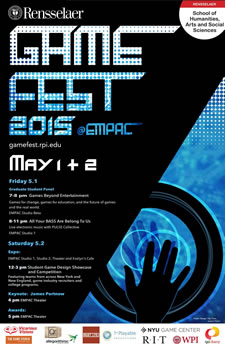 Returning to EMPAC this weekend: GameFest. What is GameFest? Blurbage:
GameFest at Rensselaer is an annual celebration of creativity and innovation in digital games, with a student showcase and competition, music performances, and presentations from veteran game designers, critics, scholars, and indie developers.
Since 2003, GameFest has grown into a regional event that brings together game design students from schools throughout the Northeast, with a competition judged by industry experts. Talks and panels include topics from serious games and entrepreneurship to deep design questions and the democratization of independent game development. Music performances range from music made with repurposed game consoles to an orchestra performing classical arrangements of music from games.
This year's event, which runs Friday evening through Saturday, includes:
+ A discussion about games for purposes beyond entertainment.
+ A concert featuring "game music, chiptunes, livecoding, circuitbending, beats, and interactive visuals from this eclectic collective of DJ's, musicians, and video artists."
+ The game design showcase with work from students from eight colleges and universities.
+ A keynote by James Portnow, "a game designer and consultant known for his theories on socially positive design."
Here's the full schedule. It's free and open to the public.