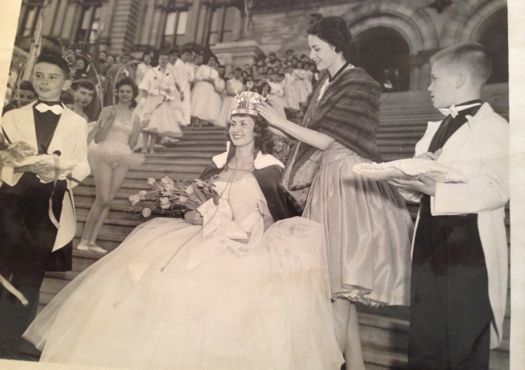 Nadia Rymanowski's friends still refer to her as T.Q., though her reign as Tulip Queen ended more than 50 years ago.
Albany's 8th Tulip Queen was 20 years old when she was crowned in May of 1956. Back then she was Nadia Spiak from Troy -- she was allowed to compete for Albany Tulip Queen because she was studying at Albany Business College. (Her father had entered her in the competition without her knowledge.) Spiak was one of more than 500 young women who competed for the crown that spring, and she still maintains that she was more surprised than anyone when she won.
"We all had our ideas about who it would be," Spiak-Rymanowski says, "I was speechless."
So what was it like to be the eighth Tulip Queen of Albany?
"Exciting," says Spiak-Rymanowski, who today lives in Loudonville with her husband and works as a professional painter.
The ceremony and the position, she says, were very different back then.
On the Capitol steps with the governor
One of the most obvious differences between now and then is the location of the Tulip Queen coronation.
"The coronation took place on the Capitol steps," Spiak-Rymanowski recalls, "The girls were standing on the top of the steps in their tulip dresses, which were donated by downtown Albany stores. The crowds stood in the park."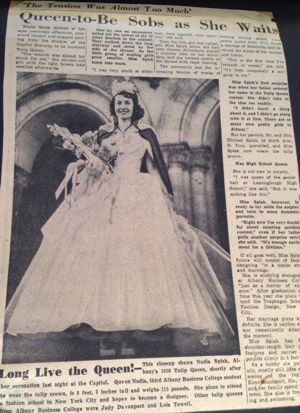 Another difference: the ceremony included the governor.
"Governor Harriman and the mayor were there and cadets from Albany Academy escorted each girl down the steps as their names were called and then the last remaining girl was the Tulip Queen and she was escorted down and they presented her with the key to the city.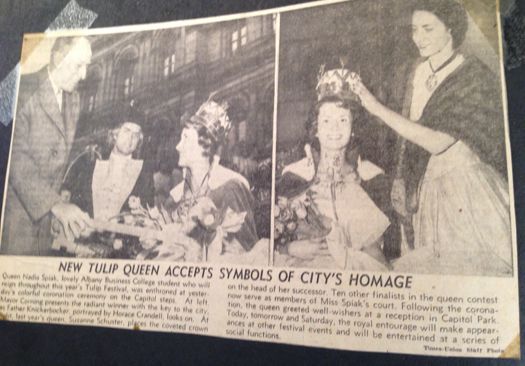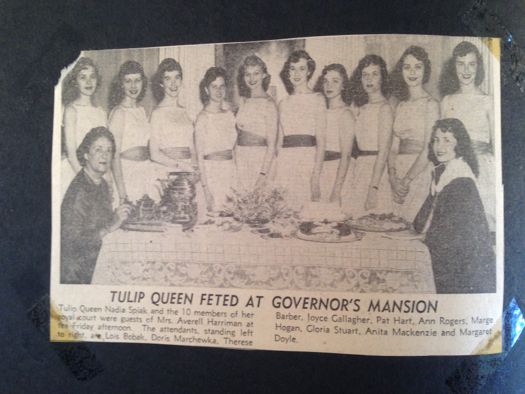 "We were given a tea by the governor's wife and there was a ball at the DeWitt Clinton. The Francis Murphy orchestra played, which was like the Benny Goodman of Albany, a 22-piece orchestra. And the day after the ball they had a brunch. They did everything very nice."
The competition
Nadia Spiak-Rymanowski remembers the competition as very congenial -- but intense.
"I think there were about 600 applications at the time -- it drew more girls," she says. "We we went for four or five interviews and there were ten on the court, now it is only five. At one interview we were all put on stage and we walked back and forth. Later we learned they were judging our posture."
Spiak-Rymanowski says there were three judges for the final round, all from outside the Albany area. One was a supervising air hostess for Trans-World Air, one was a psychologist, and another an ad exec for Life Magazine. Today the Tulip Queen is selected by local judges made up of former queens and area business people.
Early on in the selection process Spiak-Rymanowski remembers she was seated next to a fellow contestant who became a member of her court -- Margaret Doyle. The two are still best friends today.
"I introduced her to her husband," Spiak-Rymanowski smiles.
The role of the queen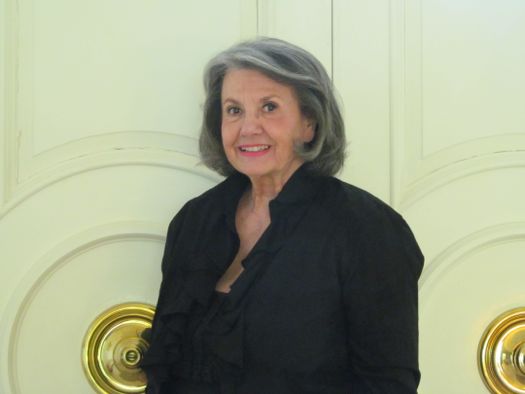 Nadia Rymanowski today
The job of the Tulip Queen and the court was also a bit different than it is today. In recent years, Tulip Queens and their courts have taken on local causes, such as promoting literacy in the Albany schools. Back then, says Rymanowski, the Tulip Queen was an ambassador for the city.
"I had several trips. I went to New York to speak in front of an organization to invite them to have a convention in Albany. And I would have my own chaperones and they would come with me. I met a lot of people during that time. Myself and my court were invited to Boston where the USS Albany was docked. We were flown there on a weekend and we were the guests of the US Navy. They had a formal dance for us in one of the posh restaurants and we each had an escort from the military of high rank -- either majors or captains. And we were given a tour of the USS Albany and photographed for Boston and Albany papers."
The fanfare
Spiak-Rymanowski laments that there doesn't seem to be as much attention as there once was for the Tulip Queen and her court.
"For everything I did or my court did, there was always a lot of fanfare -- there were always pictures and stories in the Times Union.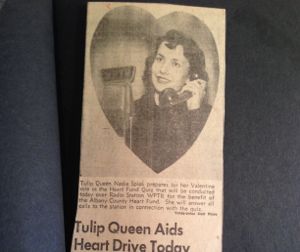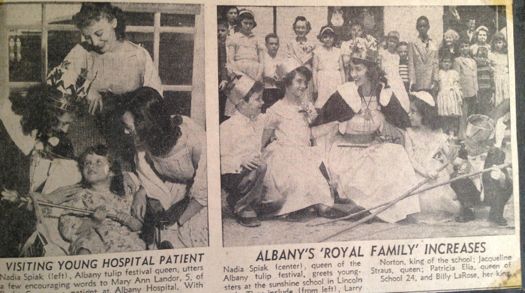 "And of course the paper is different. There was a little, tiny picture in the paper of the girls and when the Tulip Queen is crowned you'll be lucky if you'll see her. The TU had my picture on the front page -- it was huge, blown up headlines, so just the publicity alone was different."
The boys
Albany's third Tulip Queen, Judith Davenport, told the Knickerbocker News in 1951 that she had 12 marriage proposals after winning her title. But Spiak-Rymanowski laughs and says that was not her experience. She got a few calls, but says she had a steady boyfriend at the time, so she wasn't as much interested in that kind of attention.
After her reign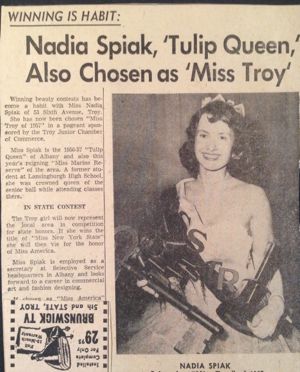 What did being Tulip Queen mean afterwards for Nadia Spiak-Rymanowski?
She says the whole experience gave her a sense of confidence and helped her make lifelong friends. And Tulip Queen was not her last pageant win. The following year, Nadia Spiak was named Miss Troy.
"They were just starting up the competition and they contacted me and asked me to run," she says.
In the audience at Proctors in Troy the day she won her title was a young dentist named John Rymanowski, who decided then that Nadia was the girl for him -- though they didn't meet until Miss Troy came to him for help with a bad tooth.
But that's another story.
Say Something!
We'd really like you to take part in the conversation here at All Over Albany. But we do have a few rules here. Don't worry, they're easy. The first: be kind. The second: treat everyone else with the same respect you'd like to see in return. Cool? Great, post away. Comments are moderated so it might take a little while for your comment to show up. Thanks for being patient.