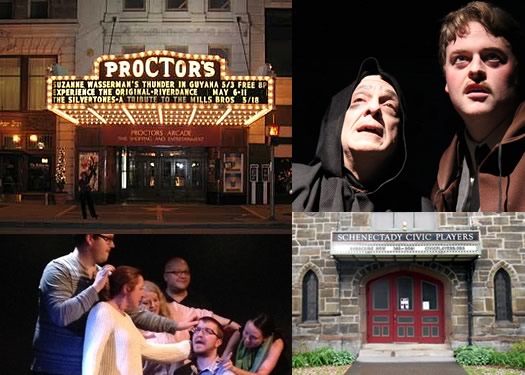 In the late 1920s there were 19 theaters in just the city of Schenectady.
"Companies like General Electric and ALCO were booming back then," says Schenectady County Historical Society librarian Michael Maloney, "and the city experienced a huge growth in population between 1900 and 1930. Theaters were able to capitalize on that."
Of course, there were also zero TVs in the city at the time. There was no internet. There was no Hulu or Netflix. There were no video games.
But that time set the stage for some remarkably long running theater institutions in the city. And almost a century later, they're helping Schenectady develop an identity as the Capital Region's theater district.
Proctors, Schenectady Light Opera, and Schenectady Civic Players were all established between 1926 and 1928 -- and all still exist today. They've been joined in Schenectady by a diverse range of other performance groups.
Companies like Classic Theater Guild and Family Players are renting space to perform musicals and plays. The Mop & Bucket Improv Company performs at Proctors every Friday and holds classes, improv jams, and creativity training at its new home just a few blocks away from State Street. The Darlene Myers Dance Center also performs at Proctors and runs classes and rehearsals in space it rents from SLOC. And on top of all that, there are also a host of stand-up and storytelling events and cabarets that take place in downtown Schenectady on a regular basis.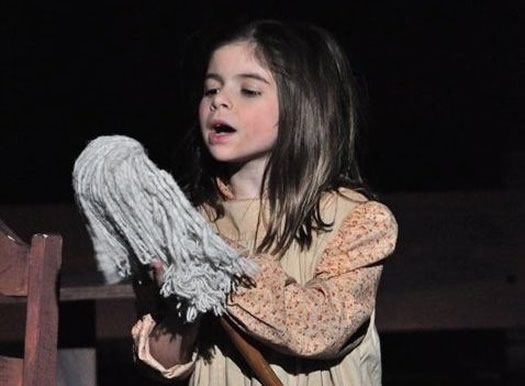 Gabby Pizzolo began performing at SLOC and went on to play Matilda on Broadway
If you don't follow the local theater scene, you might be surprised to find out there is an abundance of high quality theater being produced around the Capital Region by people with day jobs. There are solid companies doing good work in Saratoga and Albany, there's a relatively new one in Troy, and others are producing in the towns in between.
What sets Schenectady apart is that there are so many options clustered in such a small area of downtown, all within a 10 minute walk from Proctors and the ongoing redevelopment of State Street.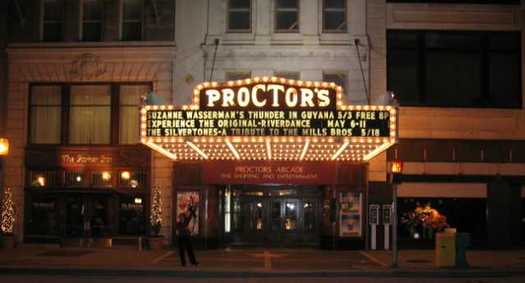 Michael Eck, a spokesman for Proctors, is also a musician and a former Capital Region arts reviewer and critic: "In some ways it feels like the rest of what is happening in the city is catching up with the performance. Proctors has been here since 1926. Civic and SLOC have been here about as long. We had a story in the business papers when we had [Phantom of the Opera] here last, about how Phantom helped change the city. It was around the time when we built our new stage. And when we looked outside there was not much across the street. Now I'm looking at Quirky and Johnny's and Mexican Radio and Zen. Ten or 15 years ago those were all just empty buildings."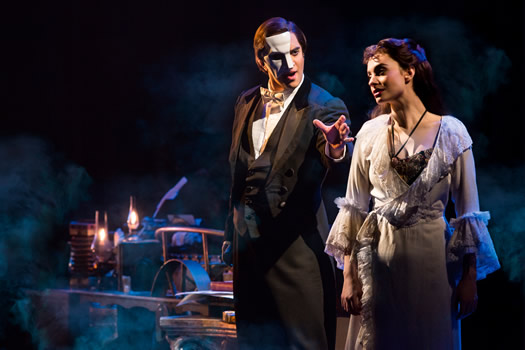 The Phantom of the Opera national tour came to Proctors in 2014. / photo: Matthew Murphy
Community theater community
It hasn't just been restaurants and offices that have set up near Proctors, it's also been other performance venues.
Five years ago Schenectady Light Opera bought an empty building -- the former Saint John the Baptist Church on Franklin Street -- two blocks from Proctors. SLOC board member Bob Farquharson headed up the search committee for the company's new home, and says Proctors was a big part of the reason for the move downtown.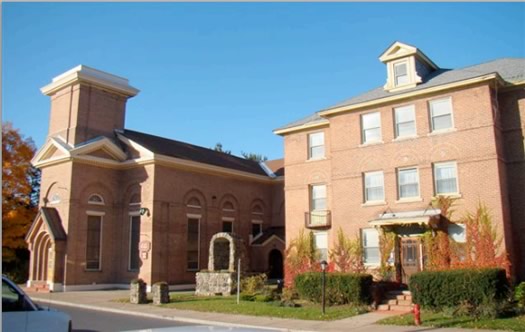 Schenectady Light Opera Company's home in the former St. John the Baptist Church on Franklin Street.
"[Proctors CEO] Philip Morris encouraged us to look downtown," Farquharson says. "And Schenectady has been very supportive. Metroplex provided us with a $300,000 grant to assist with the move."
SLOC's performers and audiences are also patrons of the nearby restaurants and cafes, supporting the community, Farquharson points out.
This weekend SLOC is celebrating five years in its Franklin Street home. A cast of 37 performers will recreate some of the best numbers form the company's first five seasons in its new space. "It's like a musical theater all-star team," says Farquharson.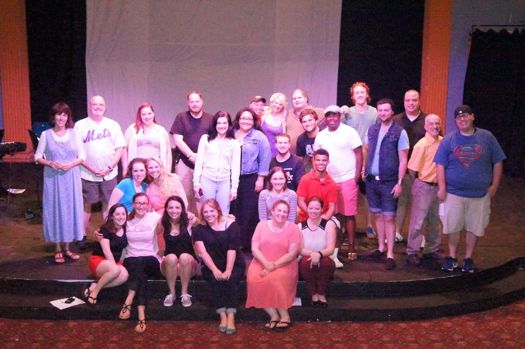 The cast of SLOC's First Five Years cabaret
Michael Eck says it's good for everyone to have SLOC and Schenectady Civic so nearby: "Downtown Schenectady becomes known as a district where you can go and see theater."
Proctors has also played a role in fostering the scene by hosting companies in its spaces.
"They have been very good assisting and supporting us with our box office, promotions and have been flexible with us with rent and using their available space for rehearsing," says Classic Theater Guild president Glenn Read.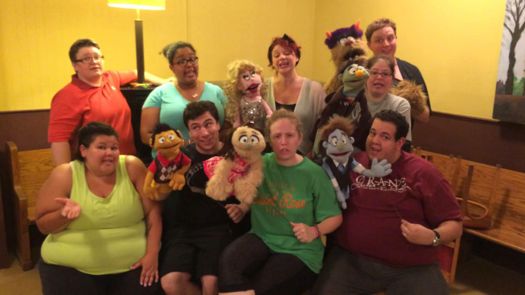 The cast of the Family Players production of Avenue Q.
And Family Players board member Jeff Hocking says last season Proctors cut the rental price for the GE Theater in half for the company's production of Avenue Q.
Founding a performance company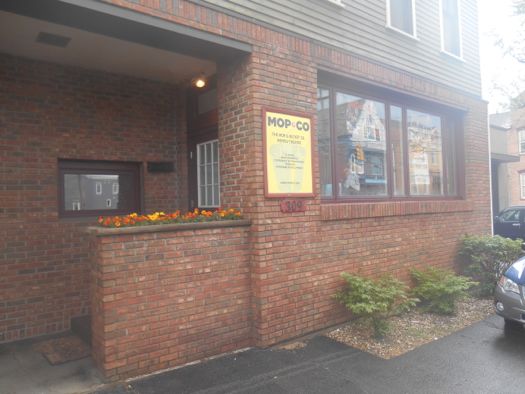 MopCo World Headquarters at 309 Union Street.
Kat Koppett and Michael Burns moved MopCo from Albany to Schenectady in 2007 after a meeting with Philip Morris. He offered them low rates on rehearsal space and worked out a deal in which they could perform in the Proctors Underground every Friday night. As the company grew large enough to seek out its own home, Koppett says they chose Schenectady, in part, because of the arts activity and opportunity for partnerships.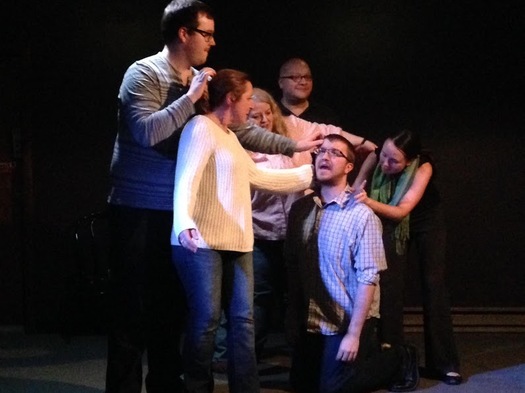 MopCo performing in Proctors Underground
"SLOC had moved in downtown, and the Myers dance studio put their rehearsal space in SLOC's education building. And all these nice little restaurants were popping up and it seemed like the kind of place that would support the kind of thing we were trying to build," says Koppett. "People are coming to see shows but there is also a community feeling that isn't present everywhere, because people are kind of isolated in a lot of other places. Here we are blocks from Proctors and there is a lot of stuff going on there, and there are storytelling nights and a jazz club. So in addition to the really traditional stuff that happens in Proctors's big house there are also an alternative-meets-traditional kind of vibe in the city."
Competition/Coopetition
With so many companies so close together, are they concerned about competition for the entertainment dollar?
Most people we asked said no, and described something more like coopetition.
Gary Hoffmann is a member of the SLOC board, but has also directed or performed with other companies in the region. "It's what I call the 'community theater community,'" says Hoffman. "Our performers at SLOC go to shows at Schenectady Civic and other theaters, and they come here. If we need special set pieces that the others have, we can borrow from each other."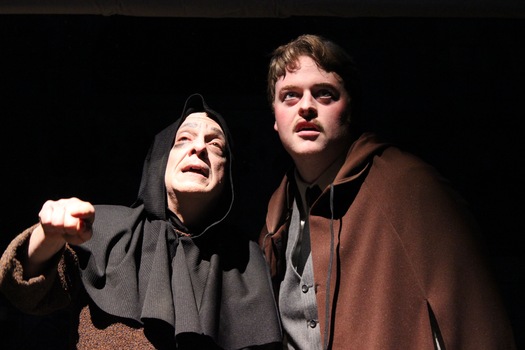 Gary Hoffmann and Matthew Dembling in SLOC's Young Frankenstein
Hoffmann says there can be some competition for players, particularly men (who are often in short supply) -- but admits that that is an issue for the Capital Region theater community at large.

Schenectady Civic Playhouse is one of the oldest continuously running community theaters in the country. Photo: Peter Delocis
Jean Carney, board president at Schenectady Civic, thinks a little competition can improve the shows. "I think that overall it's good. There is an awful lot of talent in this area and it gives everyone an opportunity to show their best effort and it makes everyone up their game a little bit -- so the overall product is really really high quality theater."
And Proctors's Michael Eck says he doesn't see it as competition.
"I think it's one of those things where the more art you have, the more art you see, I do think they are feeding each other in a way. Someone may come here to see Book of Mormon or White Christmas and see a poster for a show at SLOC, or go there to see a friend in a show and develop a fast for musical theater so they come here for a show. I'm not saying it as a convenient 'be happy' thing -- I think having all this so close to each other makes people more aware of it as a whole."
____
Disclosures: AOA Mary is a member of MopCo, and has performed with Schenectady Light Opera. She is married to a member of the SLOC board and she admits that she is powerless over show tunes.
Say Something!
We'd really like you to take part in the conversation here at All Over Albany. But we do have a few rules here. Don't worry, they're easy. The first: be kind. The second: treat everyone else with the same respect you'd like to see in return. Cool? Great, post away. Comments are moderated so it might take a little while for your comment to show up. Thanks for being patient.