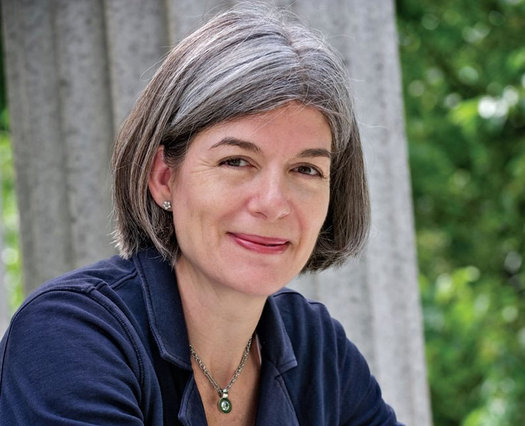 This summer's schedule for the New York State Writers Institute's public readings series in Saratoga Springs is out. And as usual, the lineup is full of names you'll recognize, such as Michael Ondaajte, Claire Messud, Joyce Carol Oates, and William Kennedy.
The readings are on Skidmore's campus and are free and open to the public.
Let's get to it...
The readings start at 8 pm in the Davis Auditorium in Skidmore's Palamountain Hall.
June 29: Non-fiction reading by Phillip Lopate and fiction reading by Linda Spalding.
June 30: Fiction reading by Francine Prose and fiction reading by Caryl Phillips.
July 1: Fiction reading by Michael Ondaajte and poetry reading by Campbell McGrath.
July 2: Poetry reading by Charles Simic and fiction reading by Howard Norman.
July 3: Fiction reading by Claire Messud and fiction reading by Elizabeth Benedict.
July 6: Poetry reading by Carolyn Forche and fiction reading by Victoria Redel.
July 7: Poetry reading by Frank Bidart and fiction reading by Rivka Galchen.
July 8: Fiction reading by Mary Gaitskill and non-fiction reading by Honor Moore.
July 9: Fiction reading by Joseph O'Neill and fiction reading by Joanna Scott.
July 10: Fiction reading by Joyce Carol Oates.
July 13: Fiction reading by Amy Hempel and fiction reading by William Kennedy.
July 14: Fiction reading by Ann Beattie and poetry reading by Tom Healy.
July 15: Fiction reading by Rick Moody and poetry reading by Lloyd Schwartz.
July 16: Non-fiction reading by Nick Flynn and fiction reading by Adam Braver.
July 17: Poetry reading by Robert Pinsky poetry reading by Peg Boyers.
July 20: Fiction reading by Cristina Garcia and poetry reading by Wayne Koestenbaum.
July 21:Fiction reading by Russell Banks and poetry reading by Chase Twichell.
July 22: Non-fiction reading by Laura Kipnis and non-fiction reading by Jim Miller.
July 23: Fiction reading by Jamaica Kincaid and poetry reading by Henri Cole.
July 24: Fiction reading by Paul Harding and fiction reading by Binnie Kirshenbaum.
____
The summer program also includes workshops led by some of the writers in the above schedule. Blurbage:
Students may enroll for two weeks (June 29 - July 10 or July 13-24) or for the entire four-week session (June 29-July 24).
Since its inaugural season in 1987, the New York State Summer Writers Institute has drawn students from across the United States as well as from Australia, Brazil, France, India, Ireland, Israel, Italy, New Zealand, Pakistan, the Philippines, Poland, South Korea and Singapore. Students have ranged from 20 to 99 years of age. The Institute is intended principally for students who have had at least one or two previous workshop experiences. It is definitely not for high school students or for freshman college students. The Institute offers courses for undergraduate and graduate credit, as well as noncredit courses. Approximately 50 percent of the program participants are undergraduate or graduate students.