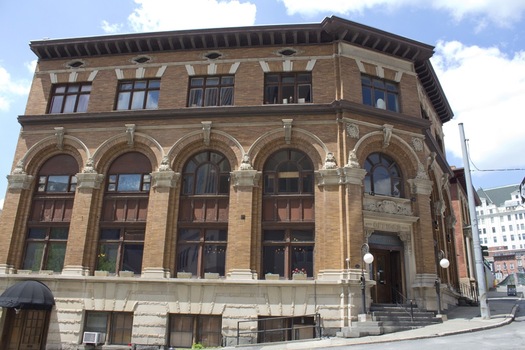 By Lauren Hittinger
Lauren has set out to survey a handful of brunch spots around the Capital Region for a short series. Got a suggestion for a place to check out? Email us, or drop the suggestion in the comments.
To me, brunch is the ideal meal. Depending on your wishes, brunch can be a sweet breakfast or a savory lunch. You can drink alcohol in the early afternoon without judgment. And it's perfectly acceptable to brunch with your best friend as well as your grandfather.
One of my favorite brunches in this area is at City Beer Hall in Albany, where a range of people come to enjoy the best meal of the week. (Because it's brunch.)
And the good news is that your first drink is included.
Food
The brunch menu at City Beer Hall periodically changes, but it leans more heavily towards breakfast options over lunch-centric items.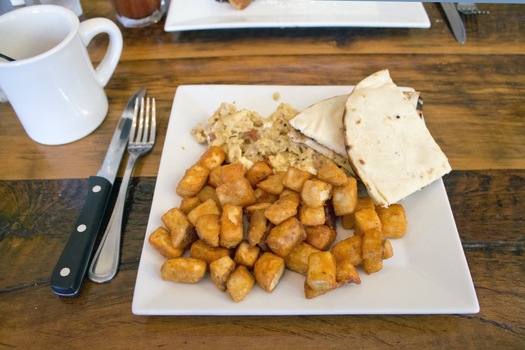 The menu is not exceedingly large -- it had 15 items on my last visit. Egg options spanned two benedicts, two types of omelets, and a couple scramble options. The sweet selections on this particular day were just two types of French toast. For those looking for lunch meals, you could choose between a burger, chicken sandwich, and pulled pork. I was happy to see more than a few vegetarian choices (examples: a veggie omelette and a quinoa & bean salad), and things that varied from health-conscious to indulgent. Most entrees are between $13 and $16.
I ordered the Greek Scramble, which was pleasant and savory. The flavors of eggs, feta, and tomato meshed well together, and the portion was just perfect. I particularly liked the crispy and delicious home fries that dominated half of my plate. My date ordered the Chocolate Decadence French Toast, which was unfortunately not quite as good. The flavors were fine, but the bread was a little too soft, which left the French toast's texture lacking "meatiness." It was almost as if the bread were too fresh. While one of our dishes was a bit off this time, in my experience that's an exception to the usual standard.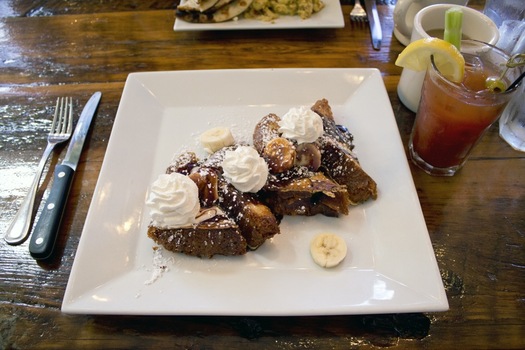 Booze situation
I hope you're sitting down for the good news on drinks. Included with your entrée price you get one beverage, as well as endless coffee. For most people, their brunch beverage of choice is a mimosa or Bloody Mary. But you can also choose a beer, screwdriver, or juice. I think that's a fabulous deal.
The mimosas were about 50 percent orange juice and 50 percent sparkling wine, which created a balanced drink that wasn't too sweet, but also wasn't overly alcoholic. The Bloody Marys, I'm told, were not overly spicy, but had a little kick from the horseradish.
And you don't have to stop drinking after your included drink is empty. During brunch you can also order from the large beer selection or the full bar.
Ambiance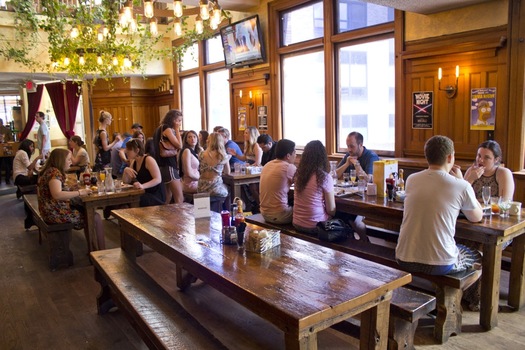 The vibe at City Beer Hall is bustling and hip. The place is normally busy, and on-trend music fills the interior. Although there's a certain hipster vibe, there are a wide variety of types of customers, from young families, to baby boomers, to 20somethings.
Most of the interior seating is comprised of long tables with benches, so you may be sharing your space with other parties. Outside seating is now open for the year, but keep in mind that much of it is uncovered, so wear your sunscreen. Once seated, the service was very speedy and friendly.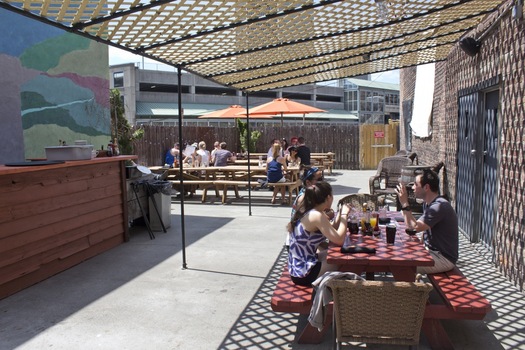 City Beer Hall offers brunch on Saturday and Sunday from 11 am to 3 pm. There's often a bit of a wait for a table, so consider making reservations in advance.
Ideal for...
I heartily recommend City Beer Hall for brunch to almost anyone. That said, this brunch is ideal for catching up with friends, or rehashing last night's shenanigans over eggs and coffee.
Lauren Hittinger writes about shopping, crafting, and living well on a small budget at The Thrifty Ginger.
Find It
The City Beer Hall
42 Howard Street
Albany, NY 12207
Hi there. Comments have been closed for this item. Still have something to say? Contact us.