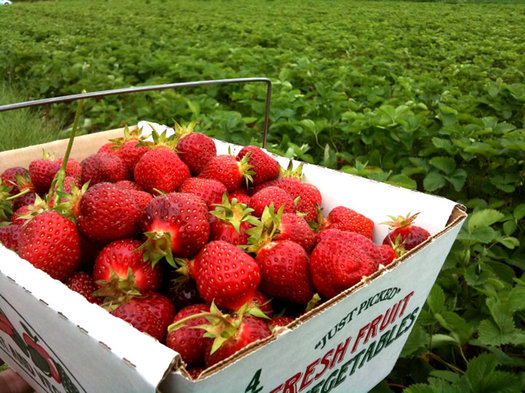 Strawberry season is here! Many local farms have recently opened for pick-your-own strawberries, or will be very shortly.
It seems like there's a fair amount of variability across farms this year -- some have gotten an early jump and others are still waiting for their berries. If we get a few sunny days following this rain, things could move along quickly.
A typical strawberry season at many farms in this area only lasts a few weeks, though some farms have strawberries for longer stretches -- even most of the summer -- because their fields include a range of varieties that produce at different times. When you're at the farm stand, ask about the varieties the farms are growing. In our experience people are happy to talk about what's available, for how long, and why. (It's also a good idea to call ahead or check the website before heading out.)
Here are a handful of places in the greater Capital Region that you can pick your own strawberries. Know of a good place not on this list? Please share!
Important: You should call ahead the day you're heading out to get the conditions.
Albany County
Altamont Orchards
6654 Dunnsville Road Altamont, NY 12009 (map)
(518) 861-6515
Pick your own starts June 10 at 8 am. (Hours below are from last year -- the person we talked with on the phone couldn't confirm the hours for this year, yet.)
Monday-Friday 8 am-12:30 pm | Saturday and Sunday 8 am-3 pm
PYO strawberries are $2.35/pound.
From the website last year: "Please bring your own containers... Bowls, Tuperware, berry baskets... Please Nothing too big, your berries will be crushed!"
Indian Ladder Farms
342 Altamont Rd, Altamont, NY (map)
(518) 765-2956
Pick your own has started June 3.
Wednesday-Friday 9 am-1 pm | Saturday and Sunday 9-4 pm
PYO strawberries are $2.25 per pound.
From the website, which includes some helpful tips: "You may pick into your own container, however it must be preweighed at the berry shed before you begin picking. Quart picking containers may be purchased at the shed for 25¢ each."
Columbia County
Samascott Orchards
5 Sunset Ave, Kinderhook, NY (map)
(518) 758-7224
Pick your own starts June 13.
Monday-Sunday 8 am-6 pm
PYO strawberries are $2 per pound. Four-quart containers are 75 cents. (Or you can bring your own containers.) There's a $5/person minimum.
Samascott has multiple strawberry fields with multiple varieties, and in our experience, there are usually plenty of berries to pick, even later into the summer.
Thompson-Finch Farm
750 Wiltsie Bridge Rd, Ancram, NY (map)
(518) 329-7578
Pick your own started June 7.
Monday-Sunday 8 am-5 pm
PYO strawberries are $3.75 per pound. Thompson-Finch is a certified organic farm.
From the website: "Please come on rainy days also as the berries keep ripening and we can loose a lot in one rain storm. This will help us! Bring your own containers and save a box and money. Dogs are not allowed on the premises not even in your car. We enforce this!!!! No talking on cell phones in the picking field. Parking lot is fair game. Our price is calculated to be around half of what you pay in the stores for our berries to encourage you to pick a lot to store for the winter."
Rensselaer County
The Berry Patch
15589 NY 22, Stephentown, NY (map)
(518) 733-1234
The farm anticipates pick your own will start June 18 (though it could be sooner based on conditions).
Best Berry Farm
1078 Best Road, East Greenbush, NY (map)
(518) 286-0607
According to the message on the answering machine, it looks like the berries will be a little late this year. Check back about around June 12 for an update.

Engelke Farm
1463 Garfield Rd, Brunswick, NY 12180 (map)
(518) 478-4939
As of this past weekend, PYO strawberries were about two weeks away.

Swartz Farm
1581 Eleanor Drive, Castleton, NY (map)
(518) 858-1174
A message posted to Facebook this past weekend (June 6) says they're hoping to have news about PYO soon. (The message is interesting -- as is this one from late May -- because it includes a sort of behind-the-scenes look at the planting of new strawberry fields.)

Saratoga County
Ariel's Farm
194 Northern Pines Road, Wilton, NY 12831 (map)
(518) 584-2189
PYO strawberry season starts June 10, according to answering machine.
Open 9 am-6 pm.
Bowman Orchards
141 Sugar Hill Rd, Rexford, NY (map)
(518) 371-2042
Pick your own started in late May.
Monday-Saturday 9 am-5 pm and Sunday 12-5 pm
PYO strawberries are $2.99 per pound and there's a $2 per person entrance fee.
Schenectady County
Buhrmaster Farm
180 Saratoga Road Route 50, Glenville, NY (map)
(518) 399-5931
Pick your own is set to start June 11.
Monday-Sunday 7 am-4 pm.
PYO is at the corner of Swaggertown Road and Worden Road.
Schoharie County
Bohringer's Fruit Farm
3992 State Route 30, Middleburgh, NY (map)
(518) 827-5783
Pick your own starts June 10.
Every day 8 am-6 pm
PYO strawberries are $3.25 per quart. (They're $4.75 per quart already picked.)


Washington County
Hand Melon Farm
533 Wilbur Avenue, Greenwich, NY -- between Schuylerville and Greenwich (map)
(518) 692-2376
Pick your own starts June 12.
Monday-Friday 8 am-6 pm, Saturday-Sunday 8 am-5 pm
PYO strawberries are $2.50 per pound.
From FB: "[S]upply will be limited at first with the best picking the following 2 weekends." And: "We practice integrated pest management which keeps our sprays to a minimum."
Hi there. Comments have been closed for this item. Still have something to say? Contact us.