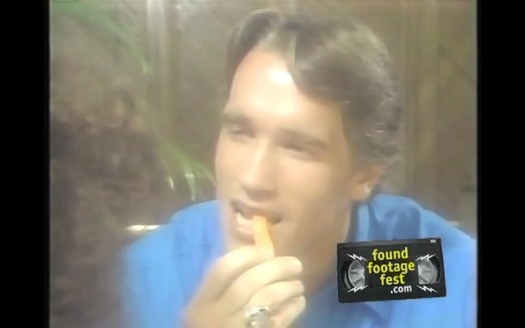 The Found Footage Festival tour returns to Proctors June 17. Tickets are $9 and on sale now.
What is the Found Footage Festival. Well, look at this blurbage that we found in our inbox:
The Found Footage Festival is a one-of-a-kind event showcasing videos found at garage sales and thrift stores and in warehouses and dumpsters throughout North America. Curators Joe Pickett and Nick Prueher take audiences on a guided tour of their latest and greatest VHS finds, providing live commentary and where-are-they-now updates on the people in these videotaped obscurities. From the curiously-produced industrial training video to the forsaken home movie donated to Goodwill, the Found Footage Festival resurrects these forgotten treasures and serves them up in a lively celebration of all things found.
Among the clips featured in the Found Footage Festival's Salute to Weirdos:
+ An arts & crafts instructional video by a woman who is psychotically enthusiastic about sponge painting.
+ A montage of exercise video weirdos, including Angela Lansbury, Traci Lords and a bearded hippie named Zar.
+ Highlights from 24 years of public access TV weirdos, featuring a woman singing about hairdressers, a speedo-wearing man dancing for elderly people and a piano-playing rabbit.
+ Consummate weirdo Arnold Schwarzenegger in a 1983 travel video called "Carnival In Rio," seductively feeding a woman a carrot.
The show starts at 8 pm on Wednesday, June 17. Also: "For Mature Audiences Only."