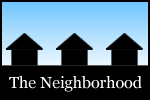 Among the topics in this most recent spin around the Capital Region's online neighborhood: the little things, Mountain Jam, forgiveness, embracing change, owning your mistakes, Cherry Plain, the North Woods, fungi, The Fried Chicken Sandwich from God, The Killer Ketchup Burger, froyo, paella, unusual foods, sharing the share, and awe.

Jon was surprised at the (literally) little things that upset people.
A day at Mountain Jam had Silvia thinking everything was going her way.
Chuck reflected on forgiveness.
Rob thought about his church embracing change.
Dominic commented on owning your mistakes.
Julie explored Cherry Plain State Park.
The Bee Balm Gal examined the details in Skidmore's North Woods.
As Jackie recovers, she's sharing some of her nature photos -- including beautiful fungi.
Steve N. decided the fried chicken sandwich at Hattie's Chicken Shack in Wilton is "The Fried Chicken Sandwich from God."
Zena faced down the "Killer Ketchup Burger" at Smashburger.
Albany Jane tried the froyo at Ayelada.
Rochelle had the paella at The Ginger Man.
Steve asked people about the Capital Region's unusual foods.
Daniel extolled the virtues of splitting the CSA share.
And farther afield, Amy was awed and inspired.