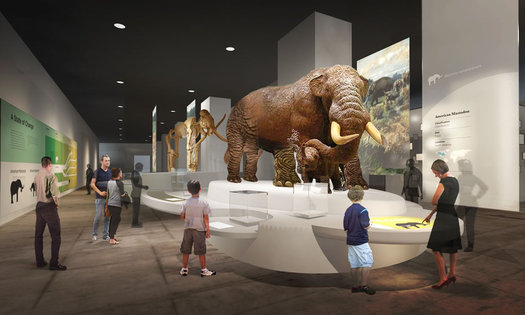 The State Museum announced Monday that it's planning a renovation that will involve 35,000 square feet of new exhibits, as well as more flexible space and updated interactive technology.
The $14 million project is set to be completed in phases over four years. The museum will remain open during the renovation (though various spaces will be closed at times for work).
Here are a few more details, as well as renderings of the planned new exhibits...
Renderings
They're above in large format -- click or scroll all the way up.
More details
Press release blurbage:
The new galleries will be developed under a conceptual approach of "New York Stories" - with every exhibition telling the stories of the state in a diverse and compelling way. The new galleries will address the following themes:
· A State of Change: demonstrates New York State's geographic and geological change through natural and human impact.
· Politics and Prose: presents New York State as a place of debate, dialogue and documentation.
· Emergence of a State: defines New York State through its people, places and events.
· Culture, Community and Context: explores New York State's people, cities, and culture through topics such as art, music, architecture and beliefs.
· New York in 100 Objects: an exhibition of 100 objects, including objects borrowed from museums across the state, that represents the history of New York.
Among the exhibits that will be carried over: the World Trade Center exhibition, the A-Train, Sesame Street, the Cohoes Mastodon, Native Peoples of New York, and Discovery Place.
Here's an FAQ-style listing of details about the project, which is being paid for via a bond item. And here's an outline of the master plan for the project, which includes more details.
The museum says it's encouraging comments and suggestions from the public: museuminfo@nysed.gov.

Hi there. Comments have been closed for this item. Still have something to say? Contact us.