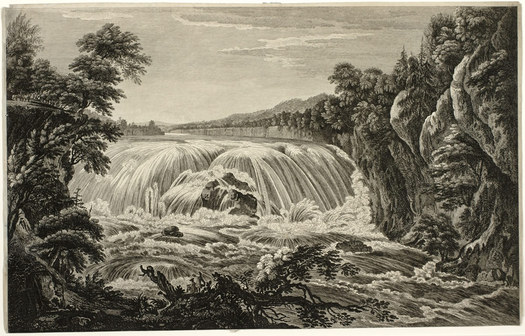 The Albany Institute of History and Art has put together an online version of its The Making of the Hudson River School exhibit, which ran in 2013. Blurbage:
[T]his exhibition reveals that much more went into the making of the Hudson River School, such as the influence of European traditions and cultural movements, as well as America's natural environment and commercial spirit. The Hudson River School also emerged alongside the new medium of photography, the new science of geology, and new technologies that transformed travel and inaugurated an industrial revolution. The Hudson River School ultimately helped shape an American identity.
The online exhibit is nicely designed, taking you a series of themes and developments that set the stage for, and then exemplified, the Hudson River School. And it's packed with works of art -- many of them depicting local scenes -- that you can click on to get better view.
One work that caught our eye today in the "Topographical Tradition" section was this above drawing of the Cohoes Falls by a British official Thomas Pownall in the late 1700s. From the description that accompanies the work:
Pownall visited the falls twice, but it was during his second visit, when the river was high, that he encountered its sensational splendor and made his sketch. He recounted "I went a second Time to view these Falls; they were then a most tremendous Object. The Torrent, which came over, filled the whole Space from Side to Side; before it reached the Edge of the Fall it had acquired a Velocity which the Eye could scarce follow; and although at the Fall the Stream tumbled in one great Cataract: yet it did not appear like a Sheet of Water; it was a tumultuous Conglomeration of Waves foaming, and at Intervals bursting into Clouds of Vapour, which fly off in rolling Eddies like the Smoak of great Guns."
The Albany Institute has been steadily expanding its online collections, which are full of maps, drawings, and objects related to Albany-area history and beyond.
The Albany Institute advertises on AOA.