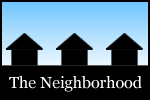 Among the topics in this most recent spin around the Capital Region's online neighborhood: patriotism, the media, art, crypto currency, a relay, Buck Mountain, the Ice Meadows, Venus and Jupiter, a culinary tour, disappointing mac 'n cheese, banh mi bread, serviceberries, and adulting.

Amy on how a list that ranked New York State last for patriotism made her "slap my little wormy-squirmy un-American hand (which is free because it's not waving a flag) against my pasty forehead at this simplistic definition of patriotism."
The Dannemora manhunt prompted Rob to highlight the first-or-right tension in the media.
Paula took a moment to observe the media circus that had gathered outside Albany Med because the hospital was treating one of the escapees.
Chuck is offering up framed versions of his photos to the Sheridan Hollow Habitat project, one for each new home.
Randal went to a local presentation about a crypto currency.
Silvia was disappointed by the visit of WW II bomber at ALB.
Jen and Christine ran the Ragnar Trail New England relay in Massachusetts.
Julie decided the views from Buck Mountain in the Adirondacks are worth the sweat.
The Bee Balm Gal explored the Ice Meadows.
Jackie took in the sky show involving Venus and Jupiter.
Daniel tooks some out-of-town guests on a short culinary tour of the Capital Region.
Zena was not a fan of the mac 'n cheese at Roux.
J+R say the banh mi at Saigon Pearl has the right kind of bread.
Ashely hosted a recap of the Adirondack Wine and Food Festival.
The location of a semmi-secret serviceberry patch was shared with Otis.
Jon is planning for a backyard pizza oven.
And Albany Jane on tea parties and adulting.