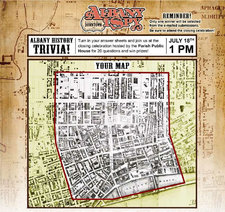 The clue sheet and map for this year's Albany I Spy, the popular photo scavenger hunt from Albany Archives and the Albany County Convention & Visitors Bureau, is now posted online.
Here's how it works (emphasis added):
Step 1: Download the form
This is your Master Albany I Spy Clue Sheet. Sounds important, right? It is! Be sure to write your name and contact information where indicated because this is how we will contact the winners.
Step 2: Set your course
You'll use the clues on this form to identify the mystery landmarks. Then, set your course each day - or wait for one spectacular day - to head to downtown Albany to spy and write the name of the landmark on your Master Clue Sheet.
Step 3: Get extra clues
Stumped? Don't worry, we're here to help! Each day, we'll be posting a special extra clue on our social media sites: Albany Archives, Discover Albany, Downtown Albany Business Improvement District, and All Over Albany, or search using the hashtag: #albanyispy.
The contest runs through July 18. And there are prizes from Cider Belly, Parish Public House, Wolff's, Bombers, the ValleyCats, The Olde English, and City Beer Hall.
This year's end-of-contest event -- where you can submit your answers -- is at the Parish Public House in downtown Albany on Saturday, July 18 from 1-3 pm with drink specials, and Albany history trivia.
(You can also email your answers -- details at the link above -- but only one entry submitted this way will win a prize in a drawing.)
AOA is a media sponsor of Albany I Spy