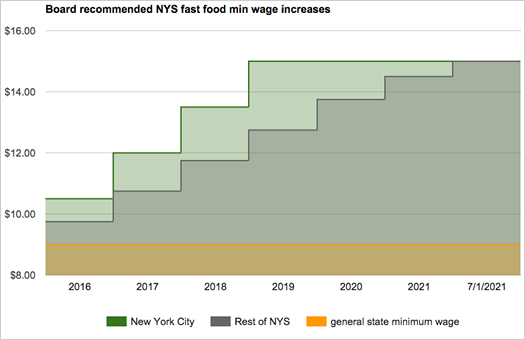 The state Fast Food Wage Board has recommended that the minimum wage for fast food employees across New York State rise to $15 per hour -- eventually.
The board's recommendation, which now heads to the state labor commissioner before it can take effect, lays out two tracks for increasing the industry's minimum wage, for New York City and areas outside the city:

Board members said the two tracks were the result of research that indicated the fast food industry was growing faster in New York City compared to the rest of the state, and that fast food outlets in the city had higher volumes than elsewhere in the state.
The state's general minimum wage is currently $8.75 per hour and is set to increase to $9 on December 31 of this year.
The board included Buffalo mayor Byron Brown, SEIU secretary treasurer Mike Fishman, and Kevin Ryan, the founder and chair of the GILT shopping site. Their recommendation for an increase isn't a surprise -- at a public board meeting last month, all three members commented on the stories they'd heard from fast food employees about how hard it is to make ends meet, and they indicated a recommendation for a substantial increase was on the way.
Ryan said the board's wasn't recommending an immediate increase to $15 per hour out of recognition of industry concerns about the wage increase. "We felt that businesses needed to digest this increase, which is going to be very substantial, over the next several years and be able to plan for it and digest that in an orderly manner. And we think they can."
For the purposes of the increase, the board's definition of a "fast food" outlet includes chains with 30 or more locations nationwide at which customers pay before eating and there's limited service. Fast food employees are any workers that perform a range of jobs at the establishment -- from customer service to food prep to cooking to delivery to routine maintenance and cleaning.
Representatives of the restaurant industry in New York have been critical of the wage board. And the NYS Restaurant Association's reaction today was no different -- it released a statement from its president and CEO, Melissa Fleischut:
"From day one Governor Cuomo's wage board has sought to silence the business community and force through an unfair and discriminatory increase on a single sector of one industry. From stacking the board with supporters of an increase to allowing business owners to get booed and heckled at public hearings the Governor has rigged the game at every turn. Since the Governor used a process that rejects compromise the result is an extremist policy that will force business owners in this low profit margin industry to cut hours, lay off employees and use technology to help offset skyrocketing labor costs."
The recommended increase to $15 per hour comes in the context of (at least) two important storylines. First and foremost are the "Fight for 15" rallies organized by labor unions and workers around the country. And cities such as Los Angeles have moved to increase their minimum wage sto $15 per hour by 2020. [NYT]
Another important context for the recommendation: Andrew Cuomo's floated plan to increaese the state's minimum wage to $10.50 per hour statewide and $11.50 per hour in New York City. That plan stalled in the legislature. And Cuomo then directed the state Department of Labor to empanel the fast food wage board.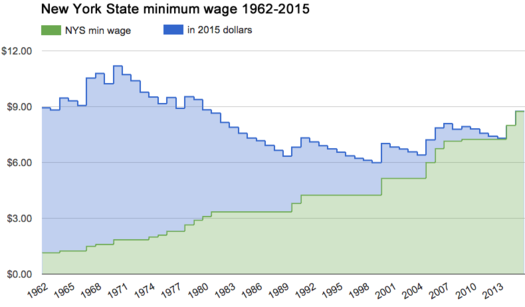 A minimum wage consistent across many industries in New York State dates back to 1962. Here's how it's increased over time, with a comparison in 2015 dollars for some perspective. (Inflation calculations via the federal Bureau of Labor Statistics calculator.)
So, if the increase goes through -- and there's no reason to think it won't, considering all this was set in motion by Andrew Cuomo -- it sets up a situation that's probably headed for further change. Because there will potentially be a significant gap in the minimum wage between the fast food industry and other businesses in the state. And the contrast will be especially stark within the broader restaurant industry. Just looking at federal wage data for the Capital Region, in May of 2014, the median hourly wage for fast food cooks was $9.25. For cooks in the general "restaurant" category it was $11.48, and for "short order" cooks it was $12.91. If fast food cooks get a state-ordered raise to $15, it'd be hard to argue that those other categories of cooks aren't doing similar work that should also qualify.
So it will be interesting to see how this all plays out. The board's recommendation will be published on the state Department of Labor's website, after which there will be 15-day public comment period. The state's labor commissioner -- currently it's acting commissioner Mario Musolino -- has 45 days to issue an order based on the recommendation.
Earlier on AOA:
+ New York closer to $15/hour for fast food workers?
+ A few ways of thinking about the minimum wage
Hi there. Comments have been closed for this item. Still have something to say? Contact us.