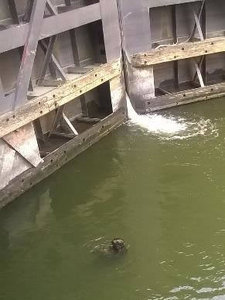 Speaking of unusual Hudson River creatures... the state Canal Corporation reported today that a seal -- yep, a seal -- made its way through the lock at the Federal Dam in Troy this weekend. From the Canal Corp's FB posting (link added):
We had a special visitor at Lock C-1 (Halfmoon) over the weekend! A seal swam up the Hudson River and locked through the federal lock at Troy before visiting us on the Champlain Canal. Thank you The Riverhead Foundation for Marine Research and Preservation for your guidance as we worked to keep the seal safe.
That photo is also from the Canal Corp's FB posting.
As it happens, it's not really all that usual to see a seal in the Hudson River around Albany. A seal -- or maybe multiple seals -- have been popping up around Coxsackie the last few years. As you know, the Hudson is open to the ocean at its southern end, and the thought is that seals end up here after after following food up river.
(Thanks, Duncan!)
Earlier on AOA:
+ Odd and notable creatures of the Hudson River
+ That time whales swam to Albany