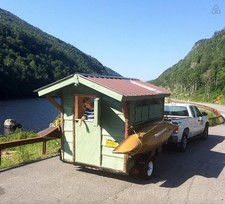 This made us smile: There's a tiny, mobile cabin that you can via Airbnb for use in the Adirondacks.
From the listing for "The Green Lantern":
The Green Lantern is a timber frame, mobile cabin that we will transport anywhere in NYS's Adirondack Park so you can camp in style and comfort. Cabin has bed platform, windows, shelving and electricity. NYS campsites are equipped with bathrooms. ...
The Space Cozy cabin that smells like pine. Skylights, screen windows and Dutch door afford plenty of light and yet ensure privacy.
Guest Access This is a private mobile cabin that we will transport anywhere in the Adirondack Park in NYS that offers thousands of campsites. We can also deliver to a private property if you've got friends or family in the Park.
The cabin rents for $200 a night with a two-night minimum -- or $550 for a week (and $1800 for a month).
[via Nicole]
photo via Airbnb